Sears is an icon of American retail. It's been around since 1893 and served as a staple for many consumers for much of that time. But in recent years, under the stewardship of CEO Eddie Lampert, it's turned into a money pit. Today, it announced a quarterly loss of  more than $500 million. Last quarter, it lost more than $400 million. And the long-running decline is accelerating.
Lampert, in a statement, called the company's results "unacceptable." Executives on a conference call with investors and analysts said lagging consumer electronics sales and promotions were to blame.
"I think what we all have to realize is that every time they report a quarter, they're telling the world they're one step closer to death," Belus Capital Advisors CEO Brian Sozzi told Quartz. "Sears comes out with all sorts of programs, what they're doing online, and the Shop Your Way rewards program, but the stores inside and out are just not set up to compete with what Wal-Mart, Best Buy, and Target are doing."
Sozzi says that's the result of years of underinvestment and neglect in its stores.
The results for the three months ended Aug. 2 mark the company's ninth straight quarter of losses: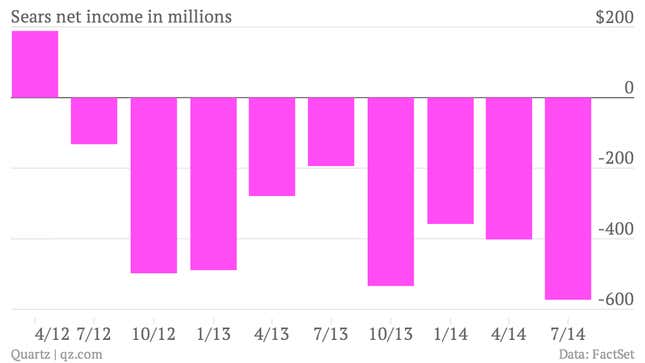 Same-store sales, or revenue from stores open at least a year, have been declining for years: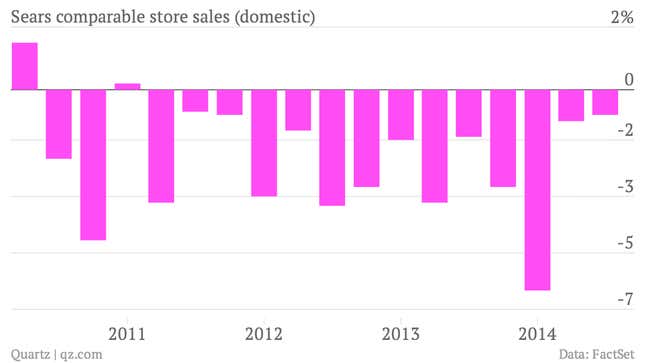 The company has been closing stores as it works on, as Lampert puts it, "rationalizing our physical footprint." Here are store counts from 2004, when Sears merged with Kmart. The company spun off more than 1000 Hometown and outlet stores in 2012.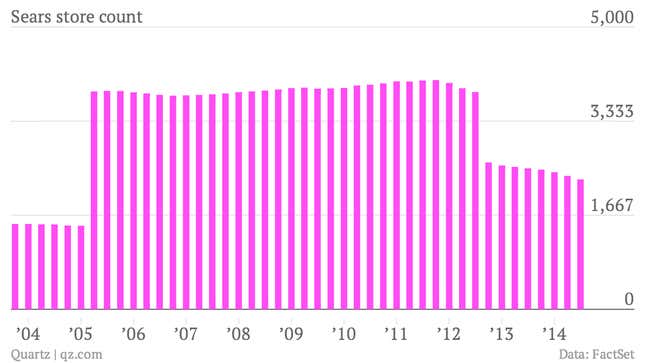 The company successfully spun off Lands End earlier this year, to the benefit of shareholders. But its Sears Canada and Sears Automotive stores have been on the block for some time, indicating either a lack of interest on the part of buyers or an unwillingness by Sears to bend on its asking price. Either way, Lampert has shown no inclination to significantly invest in stores with the gains from divesting businesses.
Sozzi is critical of the company's Shop Your Way membership and rewards program, saying it appears to be giving away already thin margins for more business from loyal, but lower-spending, customers. If sales were growing, it might be a different story, but gross margins have declined significantly in recent years.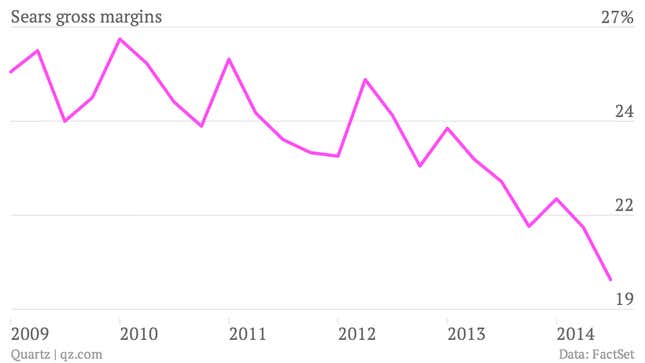 A Sears associate speaking to the Huffington Post put it bluntly: "… [T]he general consensus is that Sears is a sinking ship, and we, the associates, are in the engine room bailing out water."
The company keeps rolling out initiatives, promising them to be transformative, but it's hard to imagine a long path forward if half-billion-dollar quarterly losses keep piling up.