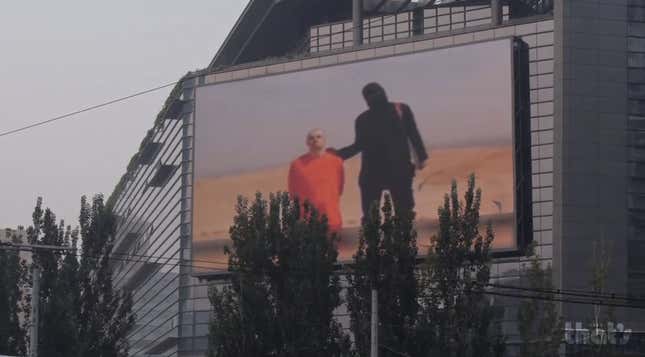 This post has been updated.
While many around the world debate whether Twitter's removal of the James Foley execution video is media censorship, a bus station has broadcast the video publicly on a big screen in the heart of Beijing.
Mounted on a large building connected to Dongzhimen station, the city's major transportation hub, the video was written about by Steve George, editor-in-chief of That's Beijing Magazine. In an email to Quartz, George says the video—along with clips of tumult in Ferguson and Ukraine—is part of a four-minute continuous propaganda loop that's played alongside clips of "happy families skipping in front of various Beijing landmarks" and "photographs of local school children holding handicrafts and helping old people."
The video was still playing on Aug. 22 at 11:10am Beijing time (11:10pm EST Aug. 21).
"This type of juxtaposition is fairly common in China," says George, adding that images of peace and prosperity in China are typically contrasted with clips of violence around the world, promoting  the narrative that "chaos looms beyond our pleasant and safe borders."
And while it's not clear who put the video on the screen, George says the fact that it is on a bus station suggests a connection with government authorities.
Update: Dr. Xu Wu, an associate professor at the Walter Cronkite School of Journalism, says it doesn't seem likely that the government directly posted the video. While he has no direct knowledge, Wu tells Quartz that if it were the government's intention to use foreign violence as propaganda, it wouldn't just be in Dongzhimen. "You'd see it across…everywhere," he said.