The Primetime Emmys are tonight, in which the US television industry hands out awards for what it deems the best in American television (determined through a notoriously complicated voting system). Women who write and direct US television have made more appearances on that stage in recent years, but it's an industry still dominated by men.
US television viewership is also male-dominated: Men in the US watch more TV than women (pdf, page 2). In 2013, 80.4% of men said they watched TV every day, compared to 78.5% of women. And men spent an average of 2.98 hours watching TV every day, compared to an average 2.57 hrs for women.
In two of the most-anticipated categories, however, outstanding drama and outstanding comedy, women actually make up the larger number of viewers overall, according to the measurement company Nielsen, and older women in particular seem to be key. Men still make up the audience majority for most of the nominees, but the shows with the highest viewership—Downton Abbey, Big Bang Theory and Modern Family—have substantially more women watching. (This tally does not include the Netflix shows House of Cards and Orange is the New Black, nominated for outstanding drama and outstanding comedy series, respectively. Netflix doesn't report viewership numbers, so they are not included in Nielsen's data.)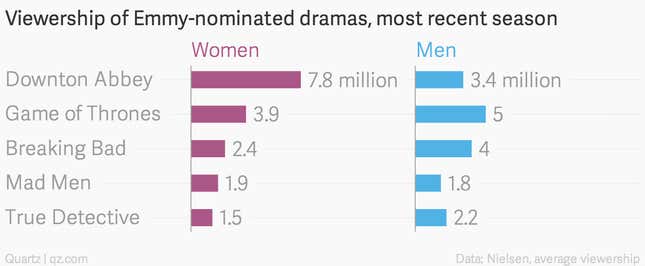 In the best drama category, Downton Abbey topped the list for viewership, thanks to an average of 7.8 million women tuning in every week to watch as an aristocratic estate tries to find its way in the early 20th century. More specifically, Downton owes its popularity largely to women older than 50, who accounted for 5.6 million of the audience. (Mad Men can also thank older women for watching more than any other demographic.)
The comedy nominees tell a similar story—the shows that had the most viewers reached those heights because women over 50 were watching. An average of 5.3 million women over 50 watched Big Bang Theory every week, and 3.8 million watched Modern Family.