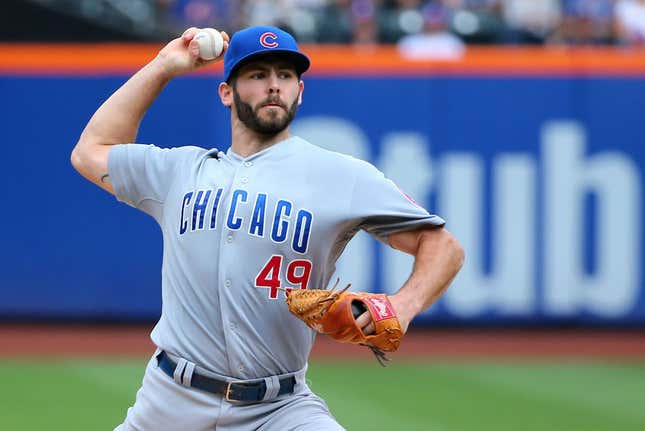 The San Francisco Giants took on the Chicago Cubs on Tuesday in a game that was stopped due to heavy rain. The ground crew struggled to get the tarp on properly to protect the field—leading to Wrigley Field fans booing the crew and chanting "Pull, pull, pull!"
The game was called after a four-hour delay, and the Cubs won 2-0. Except that the Giants appealed the decision to Major League Baseball and won, the first time a protest has been upheld in 28 years. The Cubs failed "to properly wrap and spool the tarp after its last use," MLB said. But it turns out there might have been another reason that the Cubs' ground crew didn't have a night to remember.
The 15-member crew was "undermanned" for the job of spreading the tarp, according to the Chicago Sun-Times, due to an ongoing staffing shortfall designed to get around Obamacare requirements. Last winter, the Cubs reorganized its game-day staffing schedule to keep the seasonal workers under 130 hours per month, the newspaper reports. That is the amount of time necessary for a full-time worker to qualify for employer-provided healthcare benefits for businesses over 50 employees under the Affordable Care Act, or the employer must take a tax hit called the Employer Shared Responsibility Payment. Sources told the newspaper that 10 crew members "were sent home early by the bosses Tuesday night with little, if any, input from the field-level supervisors," which the baseball team doesn't dispute, but it said there was no reduction in ground-crew staffing budgets.
Other, less wealthy, teams told the Sun-Times that they did not make any changes to their staffing due to the Affordable Care Act. "Embarrassing, and they got caught," one official at another team said. Another called the move "cheap."
Luckily for the Cubs, it didn't matter in the end. They still won the suspended game on Thursday, 2-1.