Whatsapp founder Jan Koum migrated from Ukraine to the US when he was 16 and his family got an apartment on a social support scheme. Co-founder Brian Acton was turned down for a job by Facebook.
The hardships Kavin Bharti Mittal has had to face in life are decidedly of a different nature. His father, Sunil Bharti Mittal founded India's largest telco, Bharti Airtel, and is among the country's richest men.
While Sunil Bharti Mittal has been on the forefront of India's telecom revolution, with his backing, Mittal Jr. is aiming to ride the next communication wave, through an instant messaging app his company built—Hike.
Whatsapp currently dominates India's instant messaging scene—it has 60 million active users in the country. The $19 billion price tag Whatsapp got earlier this year was a reminder of the value in getting young people in the developing world depend on you for their communication.
From its launch in 2012, Hike has grown rapidly. In July, it was the most downloaded app in India on both the India Apple app store and the Google Play store for Android devices. The company claims 35 million users, of which about half are active. Some 80% of the users are under 25 years of age, according to the company.
Whatsapp is still way ahead in India, having been popular even before Hike was born. But the two-year old Hike is confident that it can carve a niche for itself in the Indian market.
"We believe there will be two messaging apps in this country," said 26-year-old Kavin, who met us in his chic glass-walled office in Gurgaon. "One is simple messaging, WhatsApp would be that company, the second is much more rich form of messaging. We believe Hike is going to be the other one."
In order to woo Indian users, Hike has added many features that WhatsApp lacks. It allows users to password-protect certain chats. You can also set privacy levels for individuals. For instance, you can decide whether a person can see that you have seen their message or not.
"Lots of Indian kids live with their parents till they are 24 or 25 and they don't have privacy and sometimes they share a phone with the family," explained Kavin. "Kids chat all night and they don't want their parents to know."
They also "reward" users for being on Hike. You can earn Rs20 (in mobile talk time) for each friend you invite to Hike, a price that Kavin believes is not much for customer acquisition. The app also rewards its users with coupons that can be redeemed at fast food outlets or shopping websites.
Hike also has stickers with local context and content, something that Whatsapp's universal emojis can't match.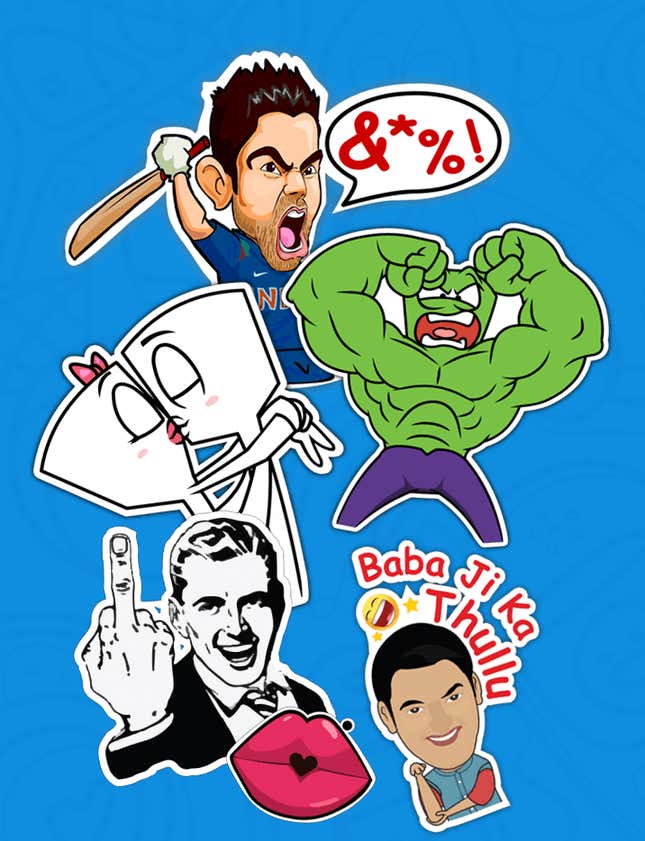 Hike has relied on word-of-mouth publicity and launched its first ad campaign in July. But according to a recent survey by mobile advertising firm InMobi, TV ads have limited influence in driving adoption of mobile messaging apps. Browsing app stores and word-of-mouth publicity have the strongest impact.
Whatsapp is not the only competition. Other global apps such as Line and WeChat are also trying to capitalize on the growing number of mobile internet users in India. Vishal Tripathi, a technology analyst at research firm Gartner, believes that Hike is doing better job at localizing features than others.
"WeChat and Line don't give reasons to customers to move from WhatsApp to their platform," said Tripathi. "I don't see them aggressively reaching out to the consumer. But there are certain features that WhatsApp doesn't have… which work in favor of Hike."
Wants to clock 100 million users
Mittal studied engineering at Imperial College in the United Kingdom and has interned with McLaren, Google and Goldman Sachs. He is into car racing and flies planes when he can find the time. He wants to make Hike "Internet's playground in India".
The company is funded by Bharti Softbank (BSB), a joint venture between Bharti and Japanese telecommunications company SoftBank. BSB invested $7 million in 2013 and $14 million in March 2014. In the latest round of funding, announced a day after our meeting, Hike raised $65 million from Tiger Global and BSB.
Mittal doesn't have a revenue stream in mind just yet. He is in fact not going to think about making money before Hike crosses 100 million users, which he wants to do in the next 18 months.
From a three-member team, Hike has quickly grown to 100 people. It recently hired 30 fresh graduates from top engineering colleges. New employees get MacBooks and a smartphone of their choice.