Amazon and Google, having evolved well beyond their respective beginnings as on online bookstore and a web search engine, are now expanding in ways that bring them closer to becoming direct competitors.
The latest: Amazon is spending $970 million to buy Twitch, a live-streaming site for videogame players that was viewed by more than 55 million unique visitors in July. Twitch is touted by some as "the next YouTube," and previously was in talks with Google. YouTube, the dominant player (and a division of Google since 2006), already is an estimated $5 billion annual business. With Twitch, Amazon is buying its way into a digital video advertising market in which spending is projected to double over the next four years.
Amazon also is aggressively building out its advertising technology portfolio. The company is "developing its own software for placing ads online that could leverage its knowledge of millions of web shoppers," the WSJ reports (paywall). Amazon supposedly has told potential partners that it could start testing a "new placement platform, dubbed Amazon Sponsored Links" this year. Amazon also recently debuted a new service that runs banner ads on other sites, called Amazon CPM Ads. ("CPM" is ad-industry jargon for "cost per thousand" ad impressions—referring to the way that banner ads often are priced and publishers often are paid.)
Together, these services broadly sound like Google's AdWords product, which allows advertisers to buy sponsored links on Google and other sites, and AdSense, which is Google's ad network for publishers. And Amazon is investing in more: The company has 45 job listings for its Ad Platform team, ranging from general manager to various engineering and sales roles. It's early going, but given the relatively low success rate of most online advertising, being able to potentially target ads based on a person's purchasing history—not just the websites they've visited, or what they've clicked on within a social network—sounds compelling.
It will be a long time before Amazon is a real threat to Google. Amazon, which historically has placed ads on its homepage and other sites it owns, still is a relatively small player in online advertising. This year, it will represent less than 1% of the $140 billion global market, eMarketer estimates. Google, meanwhile, represents more than 30% of the market—far ahead of everyone else.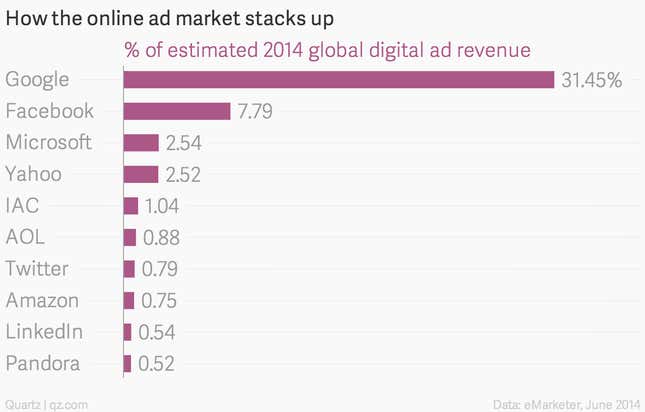 But what makes Google and Amazon such good rivals is that they have both shown they are willing to invest heavily to become market forces. Google is launching new commerce products—ranging from same-day shopping delivery to new advertising services—that ostensibly compete with Amazon's core business. The companies are engaging in a price war in the nascent cloud-computing market. And now Amazon is going after online advertising, which still represents 90% of Google's revenue.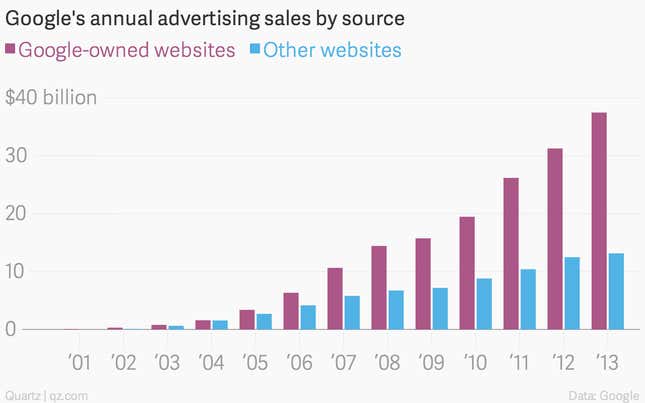 Most of Google's revenue comes from its owned-and-operated sites—mostly Google search, but also Gmail and YouTube. Its network business, where Amazon initially will compete, is still meaningful—$13 billion in gross revenue last year. But as the companies continue to expand—and if Amazon does indeed buy Twitch—expect more direct confrontations.