Wall Street observers shouldn't be faulted for betting against Bill Ackman. After all, it hasn't been a good few months for him. His takedown of nutritional supplement company Herbalife resulted in the shares of the company soaring more than 25%, and two weeks ago the Wall Street Journal reported that the Securities and Exchange Commission is looking into whether his hedge fund, Pershing Square Management, violated insider trading laws with a $53 billion hostile takeover bid for Botox maker Allergan with Valeant Pharmaceuticals International.
So it may surprise some that Bloomberg is reporting that Ackman's $15 billion hedge fund is enjoying its richest returns in years. The 48-year-old with a net worth of about $1.7 billion can thank savvy bets in companies like burger franchise Burger King Worldwide, which announced that it's making an $11.4 billion bid for Canada restaurant chain Tim Hortons.
Burger King's shares jumped  32% since yesterday after news of the merger plans broke. One of the biggest beneficiaries has been Ackman, whose Burger King stake was disclosed back in September 2012. Since Sept. 03, 2012,  Burger King's shares have soared a whopping 148%: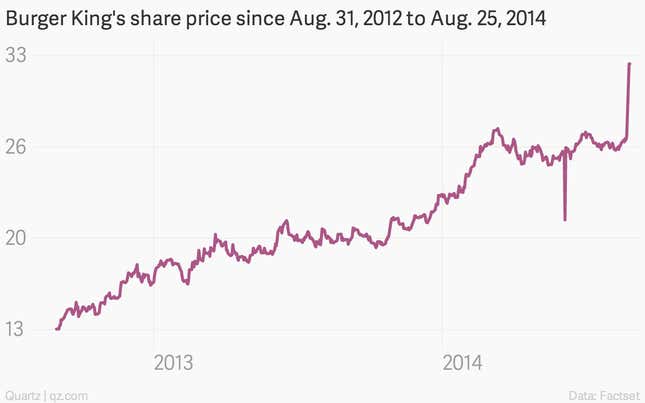 Meanwhile, Herbalife's shares have slid 27% (as of yesterday) since Ackman's lengthy presentation on July 22. Ackman is making a $1 billion bet that Herbalife essentially goes out of business, so he still has a long way to go.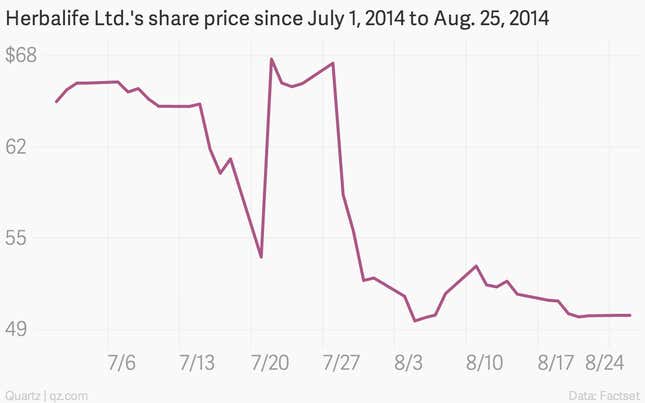 However, the polarizing activist investor may be showing that one of his biggest virtues is patience.