If the self-driving car revolution comes to pass, you're going to be hearing the name Mobileye quite a bit.
The Israeli software and microchip company only went public in April and doesn't sell any products directly to consumers. But people, particularly investors—shares rose more than 8% today—think the firm is destined to play a big role in our autonomous driving future.
Mobileye makes software and microchips that can be used to help cars avoid collisions. It can detect pedestrians, animals and debris, as well as lanes (to prevent drifting), street signs and traffic lights. Mobileye products are already available in more than 100 vehicle models and 3.3 million actual cars, according to RBC Capital Markets.
Morgan Stanley, one of the lead underwriters on Mobileye's IPO, has a succinct explanation today for how the company's technology works.
[Mobileye's] secret sauce is its proprietary software algorithm that interprets the video feed from a front mounted camera to analyze the road ahead of the car and interpret the environment around the car.
This is distinct from the technology Google is using in its much-hyped, yet highly secret self-driving car. That technology compares terrain to what Google has already collected in highly detailed maps.  RBC argues Google's technology is much more expensive and less likely to gain widespread use than Mobileye's.
Anyway, there could be gigantic room for growth if bullish predictions about autonomous cars prove accurate. Morgan Stanley has previously forecasted that it will only take two decades before self-driving cars usher in an era of utopia.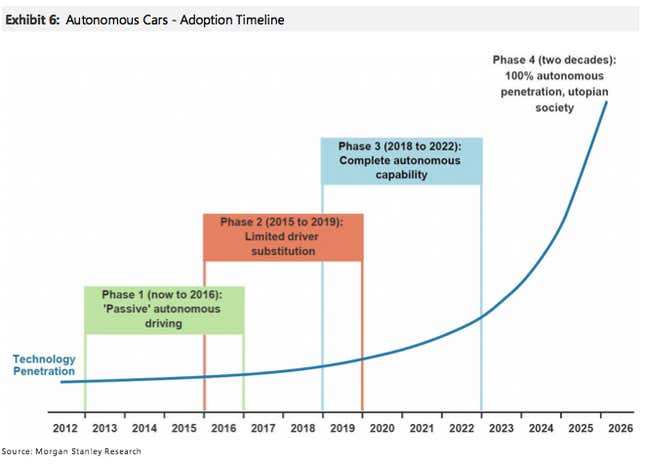 And even if utopia never arrives, Mobileye could benefit enormously as new cars increasingly incorporate aspects of automation, like collision warning and object detection systems.  By the end of the decade, RBC forecasts that 80% of cars in Europe and 55% in North America will be fitted with such camera-based features.
Mobileye, which is currently valued at about $8 billion, technically sells its products through automotive parts distributors. But the company is already an indirect supplier to another automotive apple of the investing public's eye, Tesla. It's software is also used by GM, BMW, Nissan and Honda.