Smartphones, smartwatches, smart glasses: we are surrounded by intelligent, data-driven technology aimed at optimizing every area of our lives.
Yet a gadget is just the beginning. Its real potential lies in the network of relationships that emerge among these devices. Connected, smart devices and their attendant applications represent the next big leap in human-computer interaction: the intelligent workplace.

What is the intelligent workplace?
Think about how prominently your smartphone features in your average workday. It's your portable office—you can check email, edit documents, and monitor performance from anywhere.
Beyond those basic functions, a host of applications have emerged to meet specific professional needs. Smart devices enable you to crowdsource important information in real time, get directions to your next meeting straight from your smartwatch, or receive a notification that supplies are running low. In effect, the infrastructure of the smart office—smartphones, wearables, and applications—is already in place. All that's missing is the foundation to bring it all together.
It is here that businesses have a unique advantage. Companies like salesforce.com can create products that span multiple devices and provide a platform for building custom apps that integrate existing products and services.
So what will the smart office look like? Let's take a look at four key areas.
Collective intelligence
Imagine having access to your entire organization to answer a customer question or give feedback on a new marketing idea. While two heads are better than one, 100 heads working together can change the world. Connecting people across your company enhances accuracy and productivity. If a social media manager gets a question about her product's API, she no longer has to fumble for a documentation page; instead, she can reach out to the product team (via Chatter, in our case) for an answer within minutes. You can connect the right person, at the right time, no matter where you are.
Connected products
In the past, the first sign of trouble came when a product broke down; today, each component of a smart device can monitor its condition and alert technicians when service is required. Connected products can also offer unprecedented insight. Disneyland is replacing traditional tickets with MagicBands, smart bracelets that serve as a visitor's ticket and payment method while also tracking her spending habits, movement, and wait times for rides. Using this data, park managers can control traffic and develop targeted marketing campaigns.
Connected environments
Devices like Philips's hue light bulbs and Google's Nest thermostat turn a smart office into an intelligent ecosystem. Office managers can crowdsource the optimal workplace temperature (imagine: no more fights about whether it's too hot or too cold!) or notify a sales rep that his next appointment has arrived. Similarly, sales reps in the field can map nearby prospects and monitor recent activity on different accounts.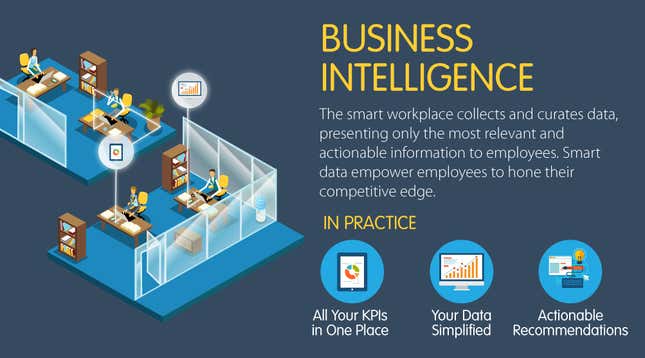 Business intelligence
A smart workplace also helps make sense of broad swaths of data, presenting only the most relevant and actionable insights to employees. When you open your Salesforce1 Mobile App, you don't see your entire calendar, just a list of the day's events and tasks. When you research a prospect, you see her most recent activity rather than a flood of superfluous information. Your performance metrics are carefully curated and delivered to a dashboard at your phone. Instead of a burden, your data becomes a competitive edge.
As devices continue to connect us, we are becoming part of much more than an office. It's time to start thinking strategically about how to bring your company and your workplace together for an unprecedented degree of sophistication and intelligence. Learn more about how Salesforce can bring your company, your office, and your work into the future, today.
This article was written by salesforce.com and not by the Quartz editorial staff.