Since 2010, author and archivist Emily Spivack has been collecting personal stories about clothes for her website, Worn Stories, selections of which appear in her new book of the same name.
Many of the book's mini-memoirs, from people such as Greta Gerwig, David Carr, Rachel Comey, Marcus Samuelsson, and Maira Kalman, are in the form of "as-told-to interviews," which lends them a chatty intimacy.
The subject matter helps too. In the case of former LCD Soundsystem drummer Pat Mahoney, Spivack says she had an hunch about those flesh-colored shorts. "I knew from going to see them perform that he would wear those shorts," Spivack says. "But I didn't know much more than that." She reached Mahoney through a friend and got the story:
Pat Mahoney
LCD Soundsystem never had a uniform or a cool look onstage. We all looked like substitute teachers: jeans, sweaters, t-shirts, sneakers.
When we started out, we had a half hour's worth of music to play live. Then the shows gradually got longer and more intense, and turned into these epic sets. I sweat a lot in general, but during those shows, I would sweat so profusely that my jeans would be drenched and I'd be soaked to the bone.
After a show, I'd hang my jeans up to dry in the tour bus, but people would get upset because it smelled really bad, like rotten cotton. I tried drying them in the cargo area of the bus but mold colonies grew on them. This was when we had relatively few creature comforts, and we didn't get to do laundry that much.
I needed a solution—something that would dry quickly and not rot—so I went to American Apparel and bought a pair of flesh-colored nylon short shorts. I thought I'd wear them as a joke—you know, to wind people up. But it also totally improved the bus/clothing situation.
Because they were made of nylon, I could wash them with hand soap, ring them out, and hang them up on the bus to dry, and the next day they would be fine. And if I draped them over the door of the bathroom backstage and we rolled out without them, I could always replace them with another pair because there's an American Apparel in every major city in the world.
The shorts had the added bonus of coming in almost my exact flesh color, so if we were playing a massive festival where people were a hundred yards back, it looked like I came onstage with no clothes on. Fans came to expect them. When I walked out onstage in my tiny shorts, I got a little cheer. I'm shy but I have quite an exhibitionist streak, and I like to do things for a laugh.
I have always had terrible stage fright. Once I play the first note of the first song, I'm fine, but before that, I can get paralytically afraid. The only way I could overcome the fear was to make sure that everything was the same every night.
I'm not a baseball fan, but the other day I was at a Red Sox game and one of the batters had this elaborate juju that he did with his batting helmet and gloves. He had to have everything just right so he could hit the ball.
Each time before we played, I had to make sure my sneakers were tied just right, that the seat was just so, that my drums went exactly where they'd been marked on the rug.
And although my shorts were very much the opposite of armor, they also became part of the ritual. I might have been tired or my hands might have hurt or I might have been hungover, but at least my clothing and physical proximity to the drums was always the same.
Knowing that I was going to be comfortable to play for two to three hours was hugely important. Then I could launch right into it.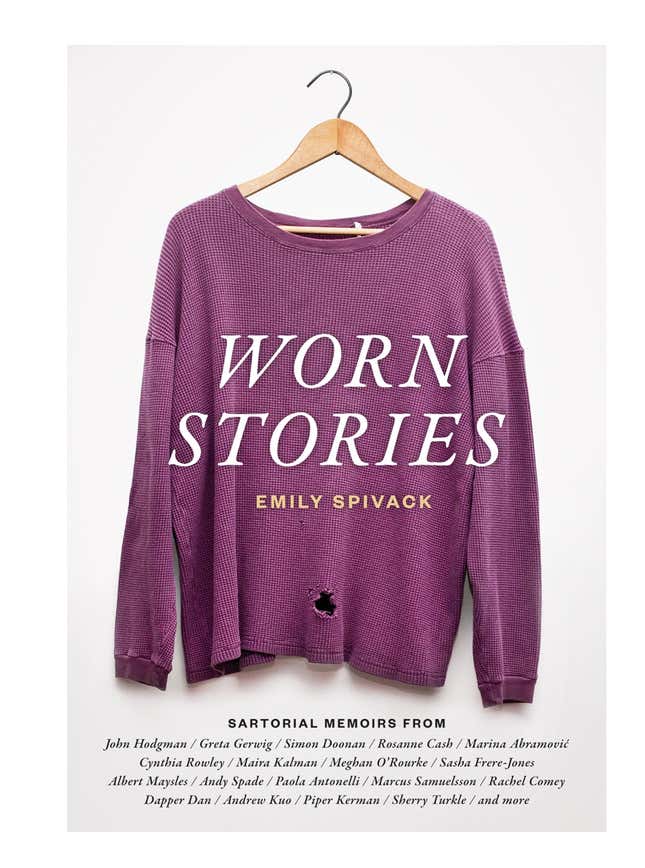 —As told to Emily Spivack
Pat Mahoney was a founding member and drummer for LCD Soundsystem, and is lead vocalist for Museum of Love.
Excerpted with permission from Worn Stories by Emily Spivack, published by Princeton Architectural Press, 2014.