Silicon Valley is white-hot right now. Rapidly growing tech start-ups are scoring sky-high valuations on a regular basis. The latest example is the reported $20-million investment by venture investor Kleiner Perkins in messaging company Snapchat, conferring a lofty $10 billion valuation on the revenue-less company (paywall). And earlier this week, Amazon bought video-game broadcaster Twitch for about $1 billion.
Skeptics argue that the tech markets are already in bubble territory, and given the gaudy numbers that are now routine, who can blame them? But the real action in tech dealmaking is at the more modest end of the scale—the smallest deals are seeing the highest M&A volume since 2007.
Tech deals worth less than $1 billion reached $39 billion this week, 45% more than the same period last year. That represents the highest volume of small-fry tech M&A action since the 2000 dot-com bubble, according to Dealogic: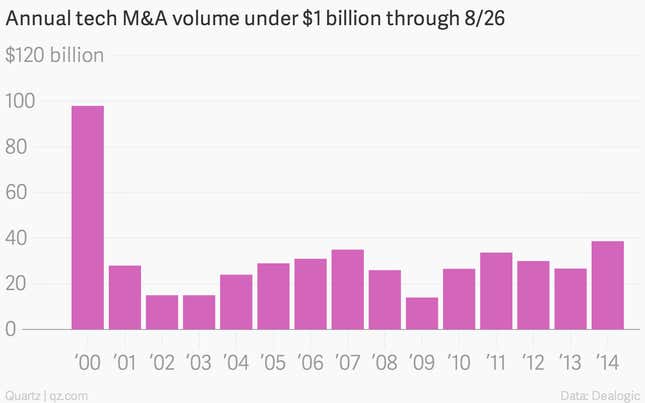 Tech deals between $1 billion and $5 billion also are on a tear, up by more than 50% on the previous year and challenging another 2000-era record for M&A activity in that size category: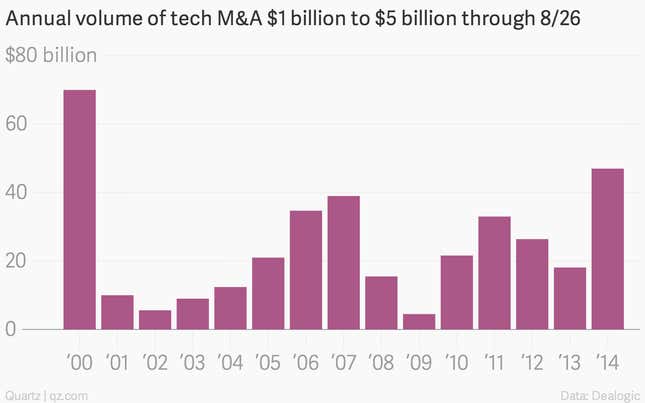 Total tech M&A activity also is at a 13-year high, propelled by the surge in smaller deals. One reason for the frenzy around smaller deals is that buyers are eager to snap up start-ups earlier and earlier, given how quickly prices are rising these days. Combined with buoyant markets pushing up the value of listed tech companies' shares, you have the right conditions for buyers to go hunting for less obvious, more elusive prey.
According to Matt Turlip of private-company data provider PrivCo, "when you have the cash or stock as currency, it's a great time to go shopping for unicorns."