Tiffany & Co. had another strong quarter of sales around the world, beating expectations with $993 million in revenue—a 7% increase over the same time last year. Those numbers would have been higher if not for a striking revenue decline in Japan, tied to a consumption tax increase there that kicked in on April 1. (Tiffany's fiscal second quarter ran from May 1 to July 31.)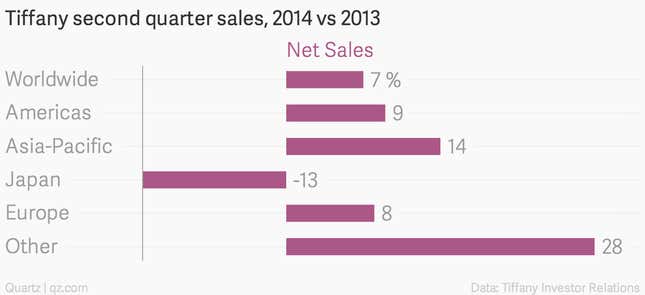 During Tiffany's fiscal first quarter, customers in Japan, anticipating the tax hike, made enough blue box purchases ($174 million worth) to drive up the retailer's Japanese sales by 20% from the prior-year period. This included a sharp falloff in sales in April after the new tax rate took effect. Second-quarter sales in Japan totaled $119 million, down nearly 32% from the first quarter and 13% lower than in the second quarter of last year.
Despite the post-tax-increase slowdown, Japan's luxury goods market is expected to rebound by the end of this year—if not sooner, according to reports by McKinsey & Co. and the Japanese advertising agency Hakuhodo. Tiffany executives were similarly optimistic in a conference call with investors this morning, and the company has raised its full-year earnings forecast.