About a decade ago, people in America were using the term "TiVo" as a verb, inter-changeably with "record" (as in "I'll TiVo that show").
Then cable companies started putting digital video recording capability into their set-top boxes, and TiVo, the company behind the eponymous digital video recording devices, that seemingly had the DVR market all to itself, started bleeding customers and faded into obscurity.
Turns out, the company is still around and people in the video industry actually regard its products quite highly. This week TiVo reported earnings and they were reasonably well-received (Barclays Capital described them as "in-line" with its expectations). The number of people using TiVo boxes is growing again (up 35% from a year ago) and the company's stock price has recovered to its highest levels in about four years.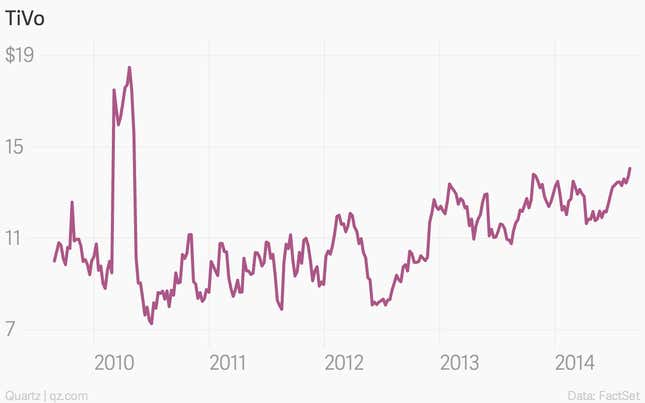 Most of the growth is coming through deals TiVo has quietly struck with cable companies in the US and abroad, as well as through licensing of its software.
This week TiVo even launched a product targeted specifically at "cord-cutters," people who don't have cable and consume broadcast television through "over-the-air" signals.
It's still too early to herald a complete return to form for TiVo, but at the very least it looks like the demise of the company (if not the set-top box) has been greatly exaggerated.