Is living in San Francisco unreasonable? That depends on who and how you ask.
The California Housing Partnership Corporation released a new report demonstrating that, yes, it's totally unreasonable to live in San Francisco. The report describes a shortfall of nearly 41,000 affordable homes for low-wage workers in the city, a problem well beyond the scope of San Francisco Mayor Ed Lee's promise to build at least 10,000 below-market-rate housing units by 2020.
A San Francisco household requires a salary of about $78,000 to afford a two-bedroom dwelling at Fair Market Rent without spending more than 30% of earnings on rent. While a two-bedroom apartment might sounds like a Victorian manse to a young childless millennial, it starts to get into squeeze territory for families. For very low-income households and (especially) extremely low-income households, life in San Francisco can fall out of reach.
According to the National Low Income Housing Coalition, living in San Francisco isn't just unreasonable, it's basically impossible. This report lists San Francisco as the most expensive rental jurisdiction in the nation (pdf). "San Francisco's minimum wage is nearly $3 more than the federal minimum wage, yet it is three-and-a-half times less than what is needed to afford a decent two-bedroom unit in this expensive jurisdiction"—or $37.62 an hour. Or, $78,250 a year. Either way: Time to blockade a Google bus.
But the US Department of Housing and Urban Development is asking people to rethink the way they think about housing affordability. Living in San Francisco, New York, or Washington, DC, isn't so bad when you think about in terms of location affordability.
Location affordability (and the Location Affordability Index) factors for a number of transportation costs: automobiles per household, annual vehicle miles traveled, transit expenditures, and so on. Follow this simple chart and you're on your way to an index of affordability that accounts for a neighborhood's walkability—or, conversely, the long commutes that residents register to and from work every day.
Using this index, the Citizens Budget Commission of New York put together a report to show that not only is location affordability pretty reasonable in San Francisco, by the same measure New York is a damn good deal. In fact, factoring for location affordability shows that Washington, New York, and San Francisco are the three best deals for any large metro in the nation.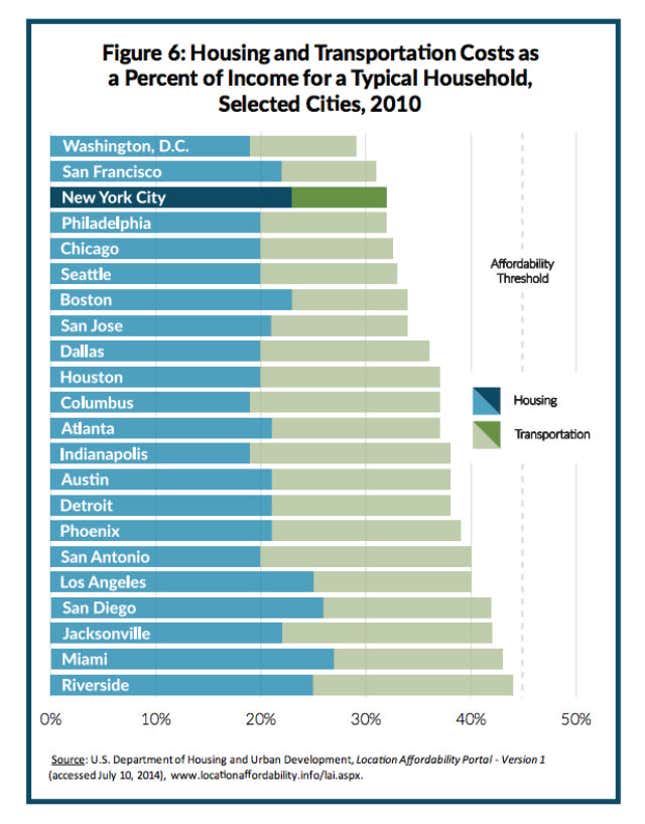 However, HUD is quick to point out that the "typical regional household" income used for these measures is an area median income that is quite high for metro areas. Meaning that the people paying the most for housing are both making the most money and spending the least on transportation.
Squint, and suddenly location affordability starts to look like another measure of income inequality. For a very low-income single worker, the location costs of New York City amount to 101% of his salary. For other categories, location costs amount to nearly half of all household earnings. Unlimited Metrocard or no, that isn't a deal most Americans can afford..
What's more interesting about this chart and the notion of location affordability in general is not what a great deal the top metro areas are for the wealthy, but what a terrible deal other metros are for everybody else. A typical Indianapolis household earns an annual income of $53,000. This household spends 23% of that on housing, which counts as affordable. But Indianapolis also demands another 20% of earnings in the form on transportation costs. And that's to pay for the privilege of driving more than 22,000 miles per year.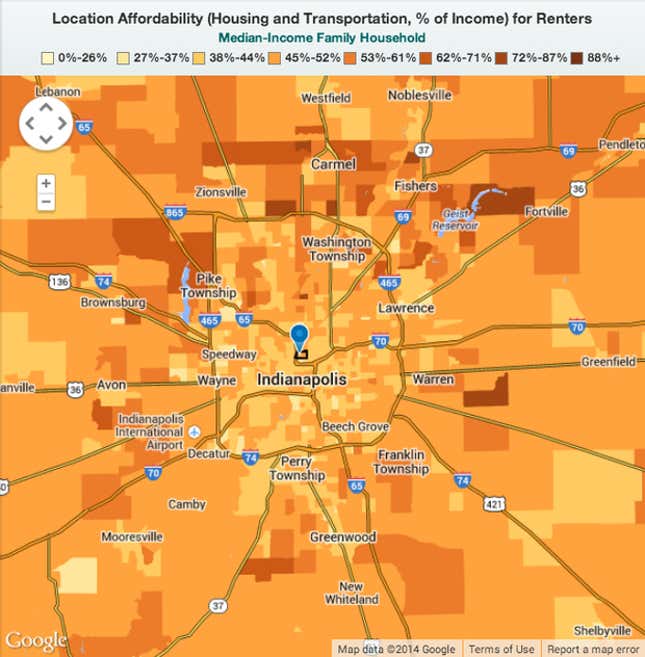 Suddenly, San Francisco doesn't sound so bad. And of course it doesn't—San Francisco is lovely! For the people who can already afford to live there, that is, and for them alone.
This post originally appeared at CityLab. More from our sister site:
The roller-coaster economies of vacation towns
Instead of data, scientists share their feelings about climate change