Ecuador, the serial defaulter that had to ship half of its gold reserves to New York this year for a loan from Goldman Sachs, is asking Beijing about borrowing $1.5 billion more. According to the Andean nation's finance minister yesterday, the government is in talks to re-open a credit line with China, a deal that adds to what critics say is the country's unhealthy, growing dependency on its Asian partner.
Ecuador has borrowed over $11 billion from China since 2008, when the South American country defaulted on $3.2 billion of foreign debt. Last year, Chinese money helped cover as much as 61% of the government's financing needs. In exchange, China has claimed as much as 90% of the country's oil shipments over the next few years, most of which it then trades around the world. (Ecuador is home to South America's third-largest oil reserves.) China has become Ecuador's second-largest foreign investor, investing mostly in mining and quarrying sectors: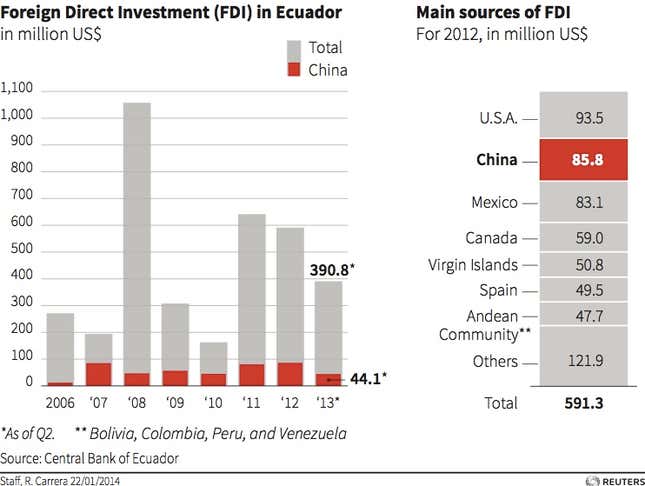 The credit line would be in addition to $9 billion in financing that Ecuador is seeking from China for the construction of a refinery that will process 200,000 barrels of crude oil a day, as well as a $2 billion loan signed with state oil company Sinopec. Including the credit line, these loans from China are equivalent to about 13.6% of Ecuador's GDP as of 2013.
These kinds of deals threaten president Rafael Correa's reputation with Ecuadorean citizens—he has pledged to cut out private oil traders and middlemen from the country's oil sector, but allowed a Chinese state firm and a private Hong Kong partner to control and sell as much two thirds of its oil. Activists are criticizing deals to trade drilling access in the Amazon for loans. And analysts say these loans are just a band-aid for the country's larger budgetary problems. "It's a short-term fix for still unresolved medium-term solvency," Siobhan Morden, head of Latin America fixed-income strategy at Jefferies Group, told Bloomberg.
For China, oil-related financing has become a method of diplomacy in South America, a region that the US has long liked to claim as its natural sphere of influence. Chinese oil firms have lent least $100 billion in oil-related financing around the world, including in Brazil and Venezuela. Riordan Roett, political science professor at Johns Hopkins told Reuters last year, "If China's control over South America's oil industry keeps growing, it could become a concern for U.S. policymakers."