Two minutes past midnight this morning, after weeks of rattling Iceland with hundreds of earthquakes, the volcano Bárðarbunga finally erupted. Magma breached the surface in a lava field in Holuhraun, the Icelandic Meteorological Office reported, in what's called a "fissure eruption," seeping through a roughly one-kilometer crack that had formed days before.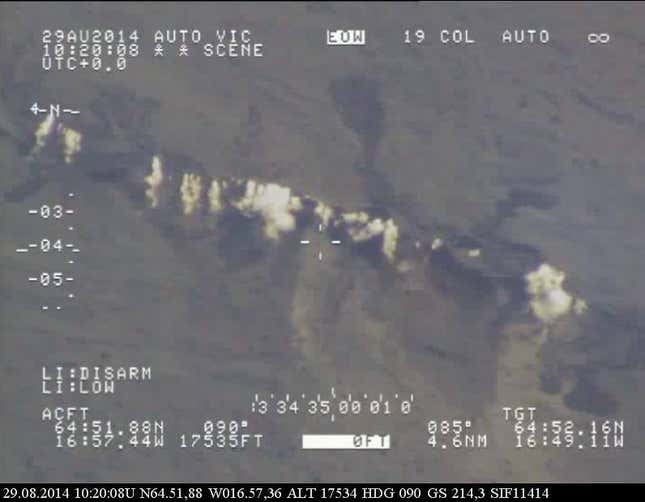 While the media's eyes were glued to Iceland's skyline, far to the east another volcano erupted. The volcano—Papua New Guinea's Mount Tavurvur—has a reputation for being one of the region's most active. It certainly looks that way:
Here's how to keep tabs on both Bárðarbunga and Mount Tavurvur as the lava flows:
Bárðarbunga
The last time a big Icelandic volcano blew its top—when Eyjafjallajökull erupted in 2010—the ash cloud that grounded air traffic cost the global economy $5 billion in lost output. The good news so far is that Bárðarbunga has been spewing a lot of steam but no ash. For now.
Once it gets going, the volcano is likely to spew a large amount of ash, say the Icelandic authorities. Though it had earlier issued a Code Red air travel warning, along with a no-fly zone, it has since downgraded that to a Code Orange. The height of the no-fly zone is low enough that all Icelandic airports remain open.
Since the volcano is vast, you can't necessarily see that much at the moment on webcams. Though two webcams from telecom network provider Mila seem to be showing some action, some blogs report that since those are being monitored by emergency response teams, it's best to stick to YouTube and avoid bombarding the Mila webcams' bandwidth. Go here instead:
You can also follow Iceland's civil defense agency on Facebook and Twitter for updates. Follow Mbl.is, Iceland's biggest news agency, on Twitter here. And of course, there's the #bardarbunga hashtag on Twitter.
For those interested in readings of the resulting seismic activity, this interactive visualization from 3dBulge is the thing to watch: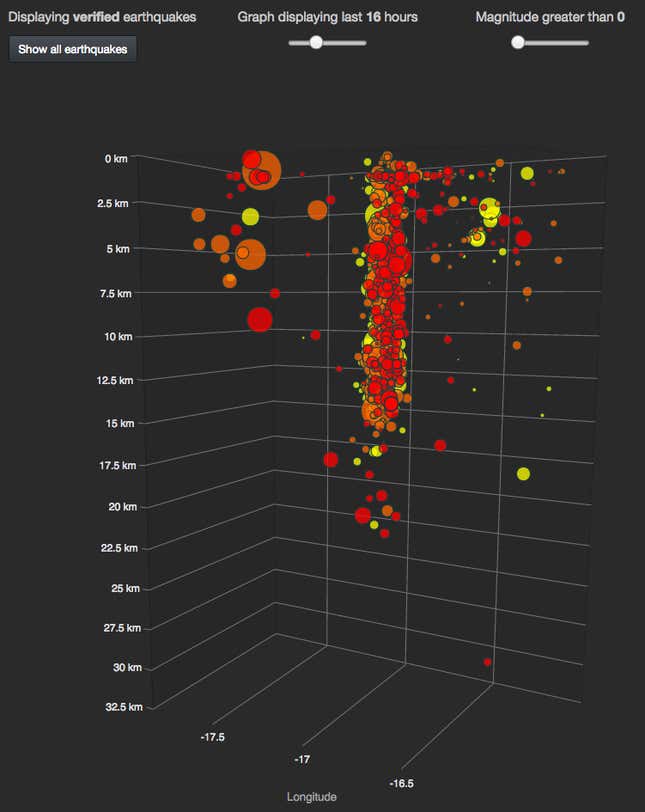 Mount Tavurvur
Early this morning, Mount Tavurvur spouted fountains of lava and sent billows of smoke reportedly 60,000 feet (18.3 kilometers) into the air. Authorities evacuated several areas and advised residents of Rabaul, the provincial capital, to stay indoors to avoid getting blanketed with falling ash. Surrounding areas are already covered in a one-inch-thick patina of ash, reports the Associated Press.
A Code Red is in effect for the area, and Qantas Airways says it has tweaked flight paths from Sydney to Tokyo and Shanghai as a result. A 1994 eruption—in tandem with nearby Mount Vulcan—obliterated Rabaul.
So far there's no webcam available, but plenty of people are tracking it on Twitter. The best hashtag to follow is #Tavurvur. (If you know of webcams we should add, please email me or send links via Twitter.)
Air Travel
To track how airlines are adapting to the twin explosions, follow @AirLiveNet on Twitter. For visuals, check Planefinder.net—where the image at the top of this post comes from.