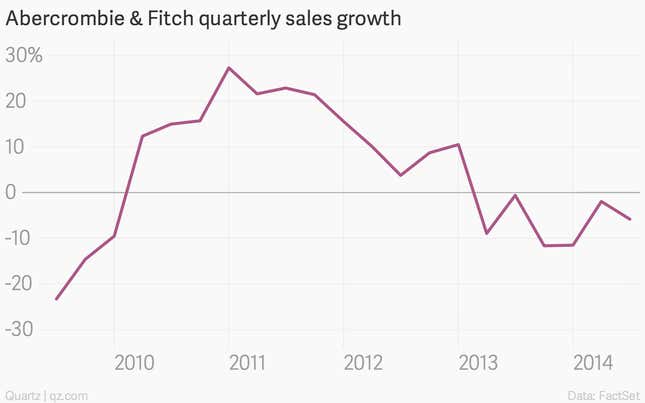 Abercrombie & Fitch is removing logos from most of its clothing. As the chart shows, the company's sales have been shrinking for the past year, and on a steady downward trajectory for the past three and a half years.
According to the company's accounts, sales from stores open for at least a year have also gone backwards for seven straight quarters (although sales direct to consumers have been growing nicely).
Put simply, kids no longer want to wear clothes with logos on them. As the Wall Street Journal (paywall), helpfully explains, they prefer to  wear "cheaper, unmarked gear that they can use to put together their own individual styles."
So Abercrombie is reducing logo-ed clothes in the US to "practically nothing", the company CEO said on an earnings call overnight.
After a horror year in 2013, Abercrombie's stock price isn't actually faring that badly this year, up 27% compared to an 8% rise for the S&P 500.