Yesterday, Beijing handed down a proposal for reforming Hong Kong's election process that pro-democracy activists say falls woefully short what was originally promised to the semi-autonomous Chinese territory. Beijing's proposal requires that candidates have approval from half of a nominating committee before going on to be voted for by the general public, a process that will help China pre-screen Hong Kong's leaders—a far cry from the "universal suffrage" that is the stated goal in Hong Kong's basic law.
Beijing's decision shows how the chances for political liberalization in China have faded in recent decades. Some believed that Hong Kong, which has enjoyed more political freedoms than the mainland since its handover from Britain in 1997, would be an incubator for political reforms and elections that could be later tried on the mainland. Observers within and outside of China believed China's rising middle-class, the internet, or general economic growth would force political change and eventually democratization.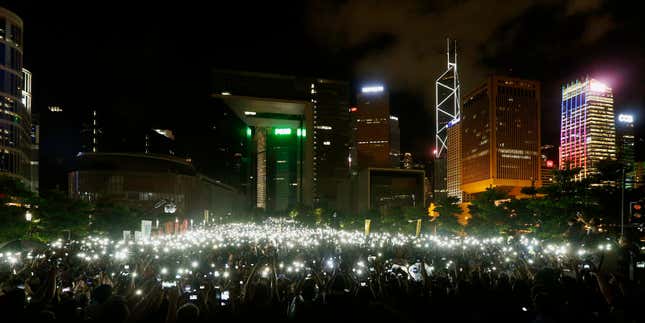 "Originally Hong Kong autonomy was based on economic considerations because Hong Kong was capitalist and mainland was communist. At the end of 50 years, Chinese reforms would have led to some convergence of the Chinese, Hong Kong systems," Lorenz Langer, a lecturer at the University of Zurich who has researched Hong Kong's "one country, two systems" arrangement with China, told Quartz. "By now, [one country, two systems] is about much more than economics. The two systems now is really about political process."
But any political convergence is becoming less and less likely. In the 1980s, when Deng Xiaoping first negotiated the terms of Hong Kong's handover, debate within the communist party and among parts of the public about political reform was at a peak—one reason why the pro-democracy protests in 1989 took place when they did. Deng promised to uphold one country, two systems (pdf), allowing a high degree autonomy for the territory, British-style law courts and government, and elections. After the crackdown on protests in the spring of 1989, also known as the Tiananmen Massacre, talk of political liberalization in mainland China ground to a halt and has mostly stayed that way since.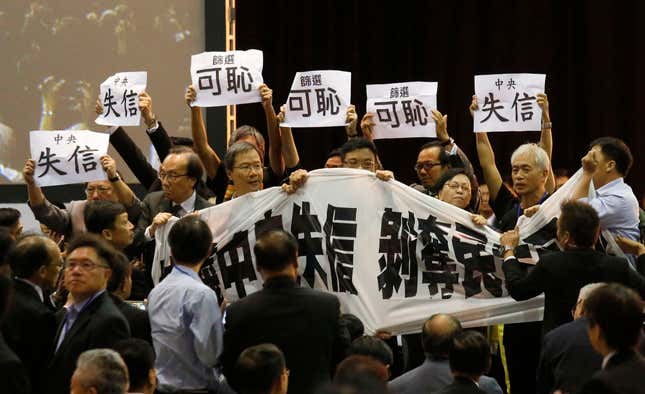 Hong Kong pro-democracy advocates believe that the recent decision on Hong Kong's elections signals that hardliners in Beijing, not moderate voices, have won out—with Chinese president Xi Jinping leading the pack. Xi may, in fact, be much less similar to his reformist predecessor Deng than he and Chinese state media would like to admit.
Under Xi, China has launched a sweeping tightening of political and civic freedoms over the past year. While Deng acknowledged that public opinion in Hong Kong towards China was at a critically low point and made concessions (paywall), Beijing has instead chosen confrontation and a show of strength over pragmatism.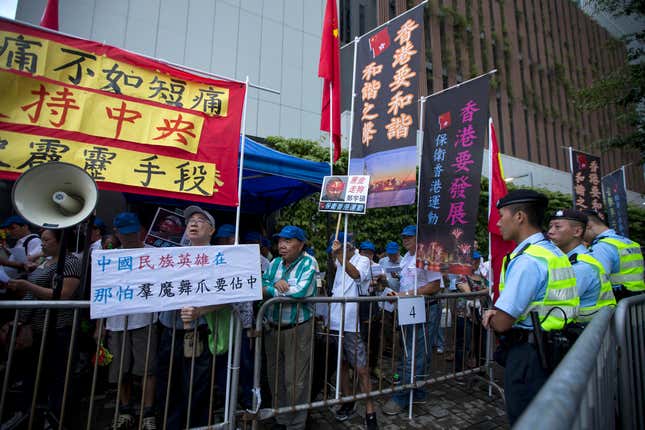 With just 7 million people, Hong Kong is dwarfed by Chinese mega-cities like Beijing and Shanghai, but the outcome of its democratic wrangle is being closely-watched on the mainland as well as overseas. "In the territory controlled by the Chinese Communist Party, only Hong Kong has some space for free speech, some judicial independence, so it is a mirror for people on the mainland," Chinese dissident Hu Jia, told the New York Times. Hu said, "The outcome of this battle for democracy will also determine future battles for democracy for all of China."
After Sunday's decision, protesters say they are preparing to bring Hong Kong's financial district to a standstill—demonstrations have already begun and police were pepper-spraying protesters outside of a news conference today. Meanwhile, pro-democracy legislators say they are going to block the proposal, which still needs approval by the Hong Kong legislature.
While some businesses have signaled their concern about the upcoming protests, others worry stifling democracy in Hong Kong could have serious long-term effects. "This is not so much a recipe for universal suffrage as universal suffering," one activist investor wrote today.