The US and the EU are scrambling to strengthen sanctions against Russia, in response to mounting evidence that Russian troops are invading Ukraine. China, on the other hand, has been touting its budding business relationship with Russia. This past weekend, leaders from Beijing and Moscow met in the Russian capital for the 11th "China-Russia Energy Cooperation Committee."
China's first vice premier Zhang Gaoli, one of the country's seven most powerful men, was there. He told China's state-run media that Beijing would "devote consistent and unswerving efforts to establishing a strategic partnership of energy cooperation with Russia."
Zhang then flew to Yakutsk, Siberia to attend a ceremony today marking the opening of the $5 billion "Sila Sibiri" (Power of Siberia) gas pipeline that will ship Russian gas to China, possibly as soon as 2017. Russian President Vladimir Putin will also be there. Construction of the 4,000 kilometer (2,485 mile) pipeline will employ thousands of Russians: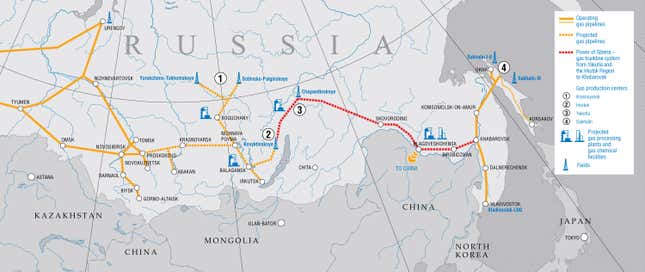 In May, China and Russia signed a landmark deal for Russia to supply 38 billion cubic meters a year of natural gas to China for 30 years, and the Power of Siberia pipeline is a crucial part of that deal. Gazprom chairman Alexei Miller said this weekend that the deal was "just the beginning" of energy cooperation between Russia and China.
The natural gas deal with Russia is a cornerstone of China's energy future. China is the world's largest coal importer and is expected to overtake the US this year as the largest oil importer, as consumption has far outstripped local production: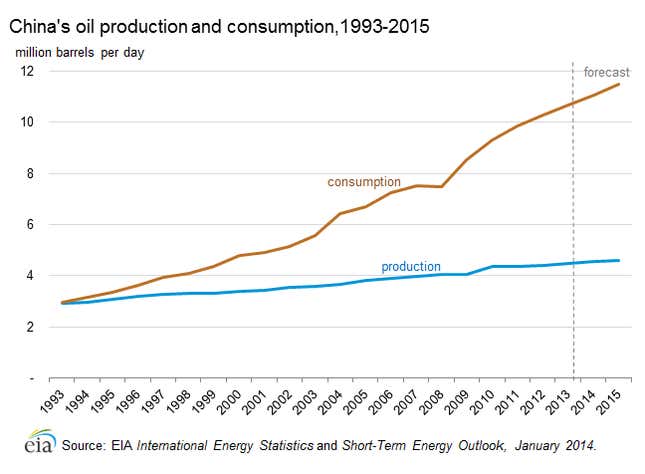 That means China can't afford to alienate Russia right now. The only comment Chinese officials have made publicly so far about the escalating crisis in Ukraine is to call for an "immediate ceasefire" in the area several days ago, without actually naming either side.