It took just one month and less than $2,000 to launch ScoopWhoop, a Buzzfeed clone in India. After just a year in business, it is already giving established Indian media companies a run for their money with its witty listicles, videos and GIFs.
The site attracted 6.43 million unique viewers in August, and had 17 million page views: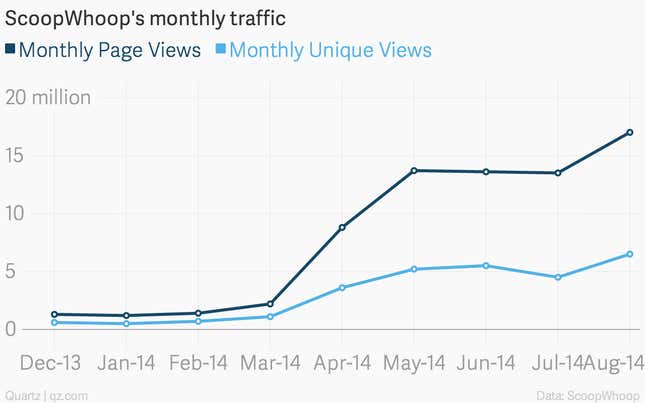 It is currently ranked 170 among all Indian websites on Alexa, outdoing many traditional news websites. Two of India's biggest media companies—one TV and another newspaper, both of which cannot be named because talks are confidential—were in discussion to acquire a stake in ScoopWhoop, which runs on native advertising and expects to break-even in the next year.
ScoopWhoop is after the market that Jonah Peretti, one of BuzzFeed's co-founders, once described as the "Bored-at-Work Network"—essentially bored office workers looking for fun posts that are easy to understand and shareable, but have a social imperative.
The entire network is apparently so big that eight years after it was launched, BuzzFeed is now valued at $850 million—around half the value of the New York Times.
In India, ScoopWhoop is tapping into the same demographic. But unlike BuzzFeed, which was started by Peretti in 2006, a successful media veteran and a co-founder of Huffington Post, ScoopWhoop was launched by five people who had no experience in the news media business.
Yet, it has worked. Here are five reasons why the BuzzFeed clone has been so successful in India.
Early-mover advantage
ScoopWhoop began in August 2013 as a secret side project by four colleagues—Sattvik Mishra, Rishi Pratim Mukherjee, Saransh Singh and Suparn Pandey—who were working at WebChutney, one of India's top webdesign and online marketing companies, and Sriparna Tikekar, who previously worked as a copywriter at advertising firm McCann Erickson.
All five were fans of BuzzFeed, and decided they wanted to start a similar website for the Indian audience. Of course, there were doubts about whether the venture would work, especially since nothing of the sort had been done in India before. But within a month, their doubts evaporated.
The early days weren't easy. They hired a freelancer to build the website, while working till two in the morning to put up posts. For the first three months through October, they could only manage to put just two posts a day. In fact, they initially thought ScoopWhoop could run as a side project along with their day jobs at WebChutney.
Soon, things changed. They began noticing their WebChutney colleagues reading and sharing ScoopWhoop's posts, though no one had any idea of who was behind them. Some of their initial posts included a video of Bollywood actor Kangana Ranaut's interview, what street dogs teach us about life, and the story of a man who wears sanitary napkins.
Eventually, Mishra saw one of his bosses exploring the website. Immediately, he told Mukherjee: "Either he finds the content interesting, or he knows I am behind this." That's when the foursome began taking their own project seriously.
Further validation was around the corner. A month into ScoopWhoop's existence, Ben Smith, editor-in-chief of BuzzFeed, phoned Mishra and Mukherjee to congratulate them. "I think you guys are doing a really good job. I just thought I should know who you guys are," Mishra, CEO of ScoopWhoop, recalls Smith telling him.
"That was when we thought about doing it full time," says Mukherjee.
So, they quickly shed their WebChutney jackets and began building ScoopWhoop from November 2013. Tikekar, a common friend, subsequently joined the team on a full time basis.
And the praise from BuzzFeed has kept flowing:
@kenbensinger my actual fav is http://t.co/ojeKzmgqXy
— Ben Smith (@BuzzFeedBen) April 4, 2014
Local connect
"BuzzFeed was talking about Thanksgiving, Halloween, very American sort of content," says Mukherjee, chief operating officer at ScoopWhoop. Indians typically weren't able to connect with that sort of content.
Instead, ScoopWhoop began focusing on quintessentially Indian themes, with an eye on the country's vast ethnic diversity.  That translated into posts like '20 Bengali sweet dishes you have to try once in your lifetime', or 'These bruised up pictures of Indian goddesses have a point to prove.'
The first viral post, though, had a more international flavor: '14 Indian politicians who will find their counterparts in Game of Thrones", which was posted in April, as India's national elections loomed. It was shared nearly 40,000 times and got ScoopWhoop noticed. Their most-viewed post is a video on sexual abuse—a subject that has been a talking point in India over the last two years.
Besides the eight-member editorial staff, ScoopWhoop depends on contributors. Though they had started with about 20, it's now down to only four because handling large numbers of contributors was becoming difficult. And typically, at least 10 posts arrive from contributors every day, which are then filtered by ScoopWhoop editors for posting.
Advertising experts, not journalists
Despite the political and current affairs focus of some of their posts, ScoopWhoop's founders don't think of their website as a journalistic outlet. Instead, they see themselves as a website creating content optimized for social sharing.
Their secret weapon, they claim, is that none of the founding members were journalists. All five co-founders studied advertising and public relations at the Indian Institute Mass Communication, among India's top communications schools, which also produces journalists.
And before ScoopWhoop happened, Mishra was the associate creative director at WebChutney, Mukherjee was the client services director and Singh was the senior art director.
Years spent in the advertising and digital marketing business helped them develop a sense of what kind of content would go viral on the internet, and how to use social media to push their content.
Also, as marketers, they pride themselves on spotting interesting stories, videos and pictures before others. That means that besides reading traditional news media, they relentlessly crawl through Reddit, Quora and YouTube, looking for interesting content that can be turned into stories.
And just like most advertisers, they are obsessed with numbers and keep tabs on the virality of their posts.Within just one year, ScoopWhoop's Facebook page has 402, 008 'likes' and 10, 800 followers on Twitter. (As of the morning of September 08)
Young and focused
ScoopWhoop's office in Vasant Kunj, a Delhi neighborhood laden with farmhouses, is very informal—just like an advertising agency. The team is young, there is no rigid hierarchy and no restrictions on what one can wear to work, including flip flops.
But for all the online trappings of a cutting-edge web start-up, their brick-and-mortar office suffers from more wordly issues—frequent power cuts and occasional rain water leakages.
The 12-member team shares two small rooms—one is occupied by the eight-person editorial department including Pandey and Tikekar. The other room, just a little bigger, houses Mukherjee, Singh, Mishra and the chief technology officer, Debarshi Banerjee—the non-editorial staff at the company.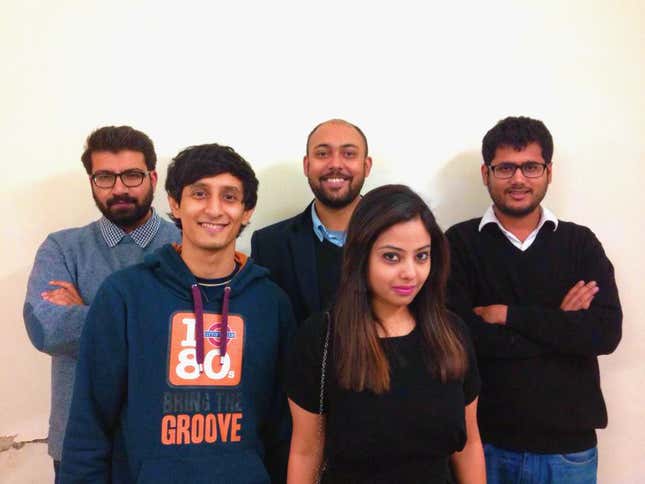 The oldest member in the team is Mukherjee, 30, and the average age of the staff is 25.
But the relaxed atmosphere at work doesn't quite mean that there's space for slacking. The team typically works 10 hours a day on weekdays—complete with an afternoon brainstorming session—and often comes in on weekends to work. "It's very hectic," admits Pandey, 25, editor of ScoopWhoop.
However, nobody is complaining. "We enjoy it so it doesn't feel like work," claims Banerjee, the chief technology officer. To focus on work, Singh, 27, one of the co-founders, jests that they have "a strict drinking schedule."
Not scared of competition
Despite its quick rise, stiff competition awaits ScoopWhoop.
BuzzFeed recently launched its India edition and plans to fuel its expansion with the $50 million it raised from venture capital fund Andreessen-Horowitz in August 2013. (None of ScoopWhoop's staff has yet been poached by BuzzFeed, and there haven't been any buyout offers.)
There are also an increasing number of similar local media outlets such as StoryPick and NextMeme.
"It doesn't scare us," says Mukherjee. "We have been able to build some brand loyalty."
The team is now working on an Android app, likely to launch in November, followed by an iOS app. That makes sense, according to Mishra, because more than half of ScoopWhoop's page views come from mobiles. The start-up is also looking to shift from just curating videos to making videos of its own.
Overall, the plan is to gradually shift into serious news—so, ScoopWhoop is looking for writers, including journalists, who can write newsy articles, without losing their shareable quotient. That'll probably mean that by the end of 2014, the team will more than double to 30 from 12 members currently.
"The vision is to be a full out-and-out publication and not just be called a listicle and a video curation website," says Mishra. It's a vision that might be familiar to anyone who is also following BuzzFeed's rise.
But ScoopWhoop wants to get rid of the tag that made it famous— BuzzFeed's India clone.
"We would like to be known for our own editorial voice, and not an inspired version of something that has worked in the US."