In addition to surprise office raids by regulators and stiff antitrust penalties, foreign companies in China now have another reason to question their presence in the country—there's simply less money to be made there.
China is one of the world's top destinations for foreign investment, with inbound investment worth more than $100 billion in each of the past four years. But as labor costs rise and economic growth slows, fewer US companies are reporting robust Chinese revenue growth, according to a report released today by the American Chamber of Commerce in China (AmCham). Consequently, these firms are planning to invest less in China in the future.
"Costs are rising… and companies are more cautious about the future as revenue and profitability slow," the business lobby group wrote.
According to the survey of 1,000 AmCham members with operations in China, more companies reported either flat revenue growth or only slight increases over the past year. Only 23% of AmCham's members saw revenues "increase substantially" in 2014, compared with 30% in 2013 and 41% in 2012. Some 18% of companies reported a decrease in revenue, more than double the share two years earlier: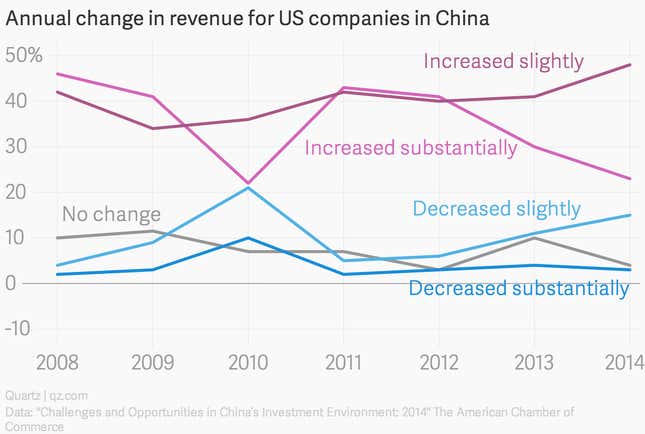 It follows that US companies are growing more wary of investing as much in China as before: around a third of AmCham members plan to increase investment in China by 10% or less in 2014. More than a quarter of respondents, 27%, said they were not planning any expansion at all: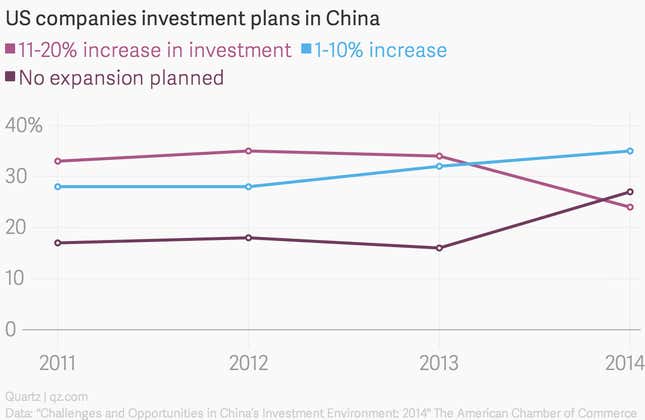 Although expansion plans aren't as aggressive as before, it's worth nothing that a majority of companies are still growing their operations in China. But lackluster revenue growth coupled with an increasingly difficult business environment may be enough to encourage them to think twice in the future—14% of firms said that they relocated some or all of their operations away from mainland China this year, up from 11% in 2013.