My husband and I inherited a 1996 Volvo station wagon a few years back. Once upon a time it had been a luxury car of sorts, the first such vehicle we'd ever had. It replaced our 1999 Honda Civic hatchback, also a gift, which was stolen from our Brooklyn neighborhood. The Volvo had heated, leather seats, all-wheel drive and dual climate control (I like hot, hubby likes cold). It was perfect, save for being a gas-guzzler (we assumed: the odometer was broken) and constantly needing large infusions of cash to keep it running.
Finally this summer, after it required another $2,000 re-up, we decided to put the Volvo to sleep. We could get another full-sized station wagon, we reasoned, something with a functioning defroster and air conditioning and that nifty latch mechanism for car seats.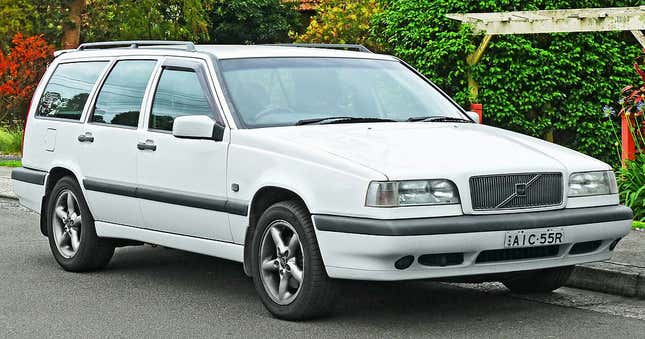 But there was a snag: there were hardly any station wagons to choose from. The first new car my family ever bought, a 1977 Toyota Corolla station wagon, hasn't been sold here for many years. Only two Japanese station wagons are sold in America: the Acura TSX (base price $31,985), a full sized luxury wagon, and the Prius V, a compact hybrid wagon (base price $26,750). (We were told the Prius V needs snow tires, thus nixing it from our list—we'd have nowhere to keep them in our fourth floor walkup.) Every other real station wagon on the market is made by a European carmaker and only one, the modestly sized Jetta (base price $20,995), is affordable. Audi (base price $42,400), BMW ($41,750), Mercedes ($58,600): in America, most wagons are for the 1%.
The answer might seem obvious to you—Americans like SUVs because they're higher up and that gives them the (mostly false) impression of a better ride. (While SUVs fare better in crashes—the driver of a heavier vehicle is of course safer than the driver of the lighter cars—cars make better active drivers; minivans were the safest in some tests.)
Still, it doesn't explain why they work for the elite (picture Carmela Soprano driving her Mercedes E-Class wagon), while the 99% has opted out of them. How is it that the station wagon, once so entwined with middle class family life, has become something that only the wealthy can drive?
And, perhaps more importantly: how can we bring it back?
The Outback eats the wagon
The real culprit behind the disappearance of the middle class wagon in America (besides the entire American car-buying public) is, in my opinion, the Subaru Outback. When it was introduced in 1994—a slightly taller version of the standard Legacy wagon with four-wheel drive and a tougher, outdoorsy look—there was nothing else like it on the market.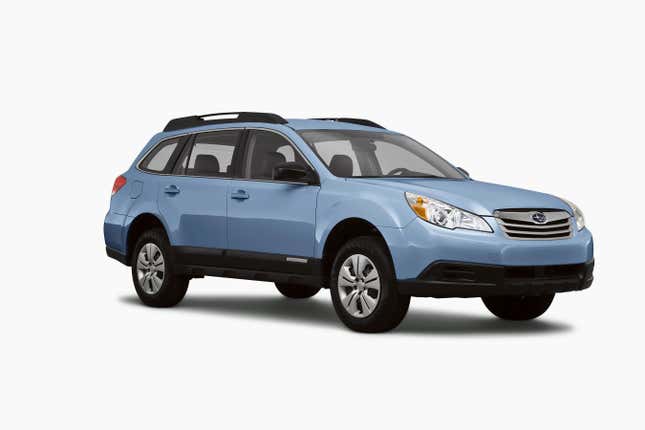 "We could see the sales explode in SUVs and nobody else really produced a car-based SUV," Michael McHale, director of corporate communications at Subaru of America told me. "They were truck-based—heavy and slow and lumbering." So Subaru decided to bridge that gap. This was the first crossover vehicle: a station wagon with SUV features. The Outback would offer car-like handling with truck-like durability.
It also sealed the deal on Subaru's image as the outdoorsy brand. Subaru buyers, says McHale, are three times more likely than others to take part in active pursuits; they're 1.4 times more likely to own a pet.
It quickly became clear that Americans embraced the model. "In 2007, Subaru sold 35,763 Outbacks and sold 2,140 Legacy wagons," says Daniel Pund, deputy editor of Car and Driver magazine. "It was ostensibly the same vehicle, but that image accounted for 33,000 sales."
"Wagons went the way of the dinosaur because with this new breed you could get everything of a wagon but with all wheel drive and the ride height," says McHale.
Other car companies were aware of the crossover popularity, as well as the decline of station wagon sales, and began developing competitors to the Outback. Kind of. The Toyota Rav4 and Honda CR-V were already out there, but they were boxy and heavy, with not-so-great gas mileage and not particularly smooth rides; essentially, they were thought of as small trucks, which of course they were. "People who were buying them eventually grew tired of the fuel inefficiency and lack of handling, and truck-based SUVs went out of fashion," says Pund.
So those small SUVs became crossovers, too. Almost all car manufactures—Asian, American, European—have redesigned their models in this class to become half-car, half-SUV. Clearly, crossovers are an improvement over the old SUV; as Alexis Madrigal wrote in the Atlantic, there are three times as many sold as SUVs and minivans combined. They tend to have good gas mileage, handle more like a car, are often lower than full-sized SUVs (thus making them safer). If you squint at the current CR-V or Mazda CX-5, you can see the station wagon shape, puffed up taller and wider. That makes sense. On some level, we do have station wagons in America; they're just obese.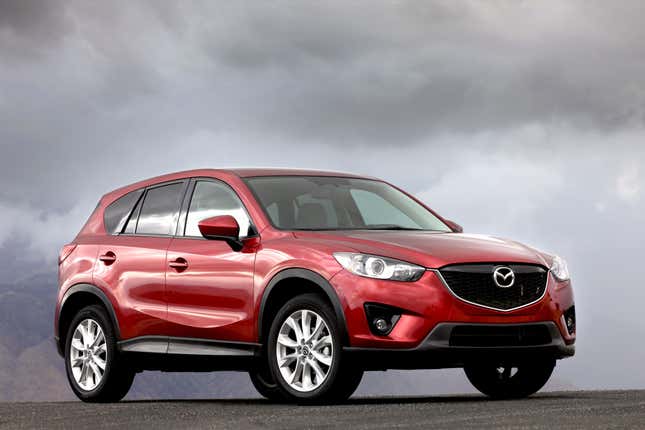 But as car companies tried merging models, making rounded versions of small SUVs, the vehicles themselves have lost visibility. Those broad swaths that were the result of the boxy, and dare I say handsome, shape are now narrow and slanted. I could barely see out the back of the ubiquitous CR-V.
Meanwhile, the lovely but modestly-sized Jetta Sportwagen—the only middle class wagon sold here—was hard for me to see out of, too. As I obsessively scoured my neighborhood for new-ish wagons or crossovers with good visibility, I noticed that BMW, Audi and Mercedes wagons, as well as their SUVs, seemed to have maintained visibility even after redesigns; it's as if visibility was only for the 1%, too.
The decline of the American station wagon empire
In 2009, Subaru redesigned the Outback, removing the Legacy tag, also rounding its shape and glass, and dropping the pretense of a wagon. It is taller, bigger, tougher looking. "People would say 'it's a great car but I just can't get my kids in the back,'" says McHale. And none of those customers seemed to care that it left the Legacy behind. "We do not market it as a wagon," says McHale. "We call it a crossover because that's what the market looks for."
Clearly. Sales of Outbacks have more than doubled in four years, according to McHale. "Making a car the right size was the final trigger."
I see Outbacks on almost every block of my neighborhood. The only car represented more is the CR-V. After that, it's the Forester, followed, eventually, by Jetta Sportwagons and Audi wagons (because that's how fancy my neighborhood has become).
I can't really blame Subaru—they were just giving the people what they wanted. I just wasn't one of those people.
Why did Americans fall out of love with the station wagon in the first place? "We've been trying to figure out the answer to that question for decades here," says Pund. "We're unabashed wagon fans."
As am I. When I passed an old Camry station wagon on the street, I was sick with desire for it: all that room and all that glass, closer to the road, the moral high ground. I started cruising websites of other wagon enthusiasts, station wagon porn of sorts, oohing and ahhing at the full-sized Honda wagon I could get if only I moved to France (as I've always meant to do).
One explanation as to why Pund and I are in such a minority is that Americans have fallen prey to the untruth that to be higher in a car is to be safer. Station wagons tend to have better stopping, better handling, and more fuel efficiency than any other sort of cargo-carrying vehicle, according to Pund. It's not that crossovers are unsafe, he says. It's that they're not as dynamically proficient as something lower and more car-like. "There's a perception of safety but other than a slight visibility advantage in terms of active safety"—seeing past other cars—"they're actually at a disadvantage," says Pund. And visibility is diminished when everyone is riding high in an SUV, anyway.
Wagons for the wealthy
The lore is that Americans believe wagons to be uncool or unattractive, that the massive fake wood-paneled Ford Family Trucker most notably remembered in National Lampoon's Vacation movie permanently exiled station wagons to the land of the, well, lampoonable family car. "It's an enduring vision of American wagons that's not representative of today," says Pund.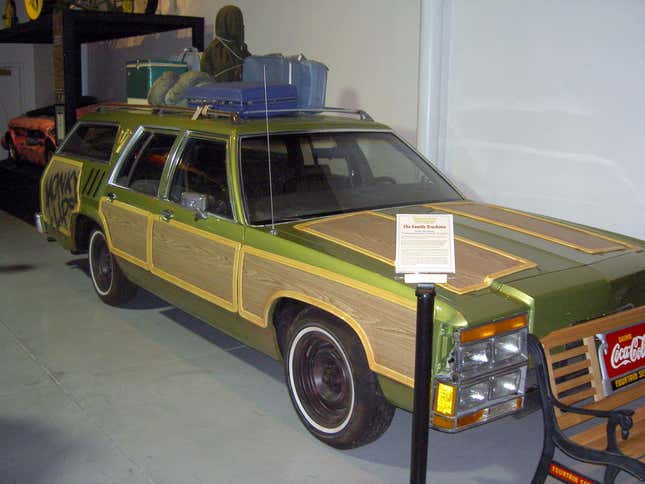 For anyone younger than 45, that space of automobile un-hipness is actually occupied by the minivan, first introduced by Chrysler in 1983. It's a vehicle so emasculating that the Car Guys vociferously commiserate with any male caller who admits to buying one.
But that stigma—the dowdy family car—never reached Europe. "I don't think that station wagons ever carried the baggage—pun intended—of it being a parents' car that it did here," says Pund. In fact, the good old Legacy station is still for sale in Europe, where you can also get the Mazda6 station wagon, the Ford Focus wagon, the Chevy Cruze, the Honda Civic Tourer—there's even a Jaguar station wagon over there (base price: $36,995). All of those compete with Europe's homegrown models. In Germany, Mercedes station wagons are so commonplace that they're used as taxis.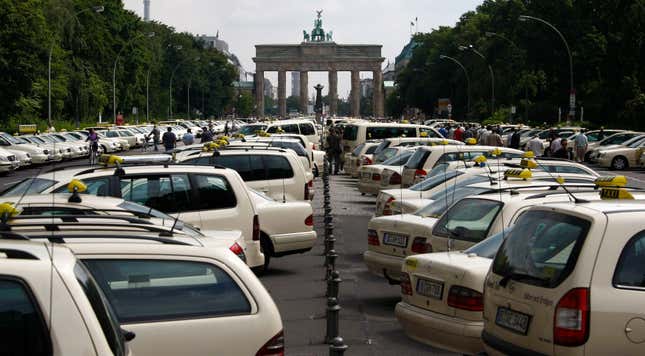 The reason luxury European station wagons are more pervasive on the market here is pretty simple. "That's just a product of being popular in their home countries," says Pund. "They're making them anyway so it's not a great expense to sell them here."
Why do Europeans like driving station wagons?
There are narrower roads and more expensive fuel there, so the smaller, more fuel-efficient cars make sense. But station wagons are also just more fun to drive. "Europeans like driving cars," says Pund. "And station wagons are cars." The Jetta hugs the road. Its engine purrs. It rides smoothly and doesn't make much noise. Imagine what happens when you go the next level up to the Audi or BMW (I have to imagine because I didn't bother to test drive and make myself any more sick over the decision than I already was, but their drivers seem to like them).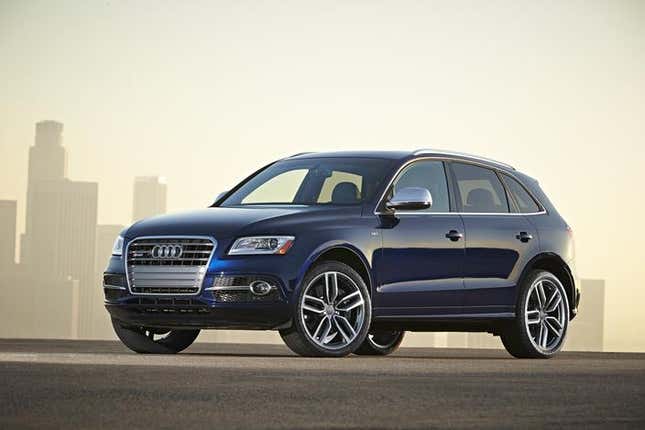 But even those fun-to-drive, safe luxury station wagons aren't faring so well in America. According to AOL Autos, Acura's TSX Sport Wagon has lost 34.2% of its sales compared to the first quarter of 2012, falling to 613 units overall. Mercedes-Benz has watched sales of its E-Class wagon fall 17.8% to 378 units this quarter. Volvo, perhaps best known for its sturdy station wagons, has seen sales of its XC70 wagon decline 16.5% this year, to 1,120 units sold.
Almost wagons
The truth is that hardly any car these days fits squarely—or rounded-ly, as the case may be—into one category. The Outback is more SUV than wagon. The Mazda5—a favorite of mine for its family-friendliness, versatility and total lack of any pretention (it is so not cool)—is a minivan and wagon meld.
Vehicles like the Hyundai Elantra Touring or the Toyota Matrix are technically hatchbacks and economy cars, but they also pass as mini wagons. "There's a market that thrives on this crossover appeal, so from the small station wagon to the full-sized SUV, at every point in between there's an offering of one sort or another," says Pund.
And yet if you do want to remain faithful to a body style—a real, true, full-sized and family-friendly station wagon, with ample room and good visibility—your best bet is the Audi Allroad (ostensibly a fancy version of the Outback), the BMW 5 series or the Mercedes E-Class wagon, thus shelling out more than $40,000 for the base price.
How can we bring back the wagon? Maybe we can't. Americans vote with their dollars, and they've voted for height and SUV-ish features like all-wheel drive and a more outdoorsy/militaristic look. As for me, I'm just about to pull the trigger on a used Volvo station wagon, one with many flaws but four years left on the warranty. As crossover owners will tell you, once you get accustomed to a vehicle it's hard to, ahem, shift gears and get used to something new.