Talk of the death of the IPO may be premature.
So far, 188 companies have raised over $40 billion in US IPOs 2014. A big backlog means there could be as many as 100 more this year, raising the total money raised to $80 billion for the year, according to an estimate by Renaissance Capital. That would be the most money raised since 2000, and nearly 50% more than last year (itself a high point).
There have been more than 40 filings in two different months this year, something that hadn't happened previously since the pre-financial-crisis days of 2007. There have already been 261 initial filings (indicating an intention to IPO) this year—more than there were all of last year: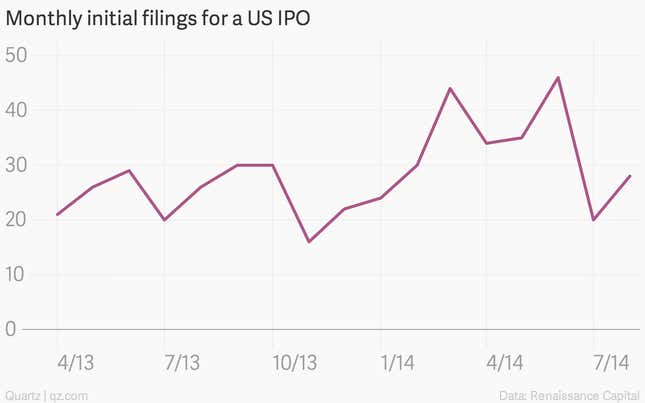 The report highlights the announced deals that are set to launch over the rest of the year, and the industries that look likely to raise the most cash. Renaissance predicts a "fall surge," with the last four months of the year's IPOs raising as much money as the previous eight months.
Technology is the unsurprising leader: The Chinese e-commerce giant Alibaba leads the pack with what's expected to be one of the biggest tech IPOs of all time, dwarfing the other companies. Here's how some of the significant tech IPOs expected this year stack up. (Alibaba is left out of this chart because it's such an outlier that it throws off the scale entirely.):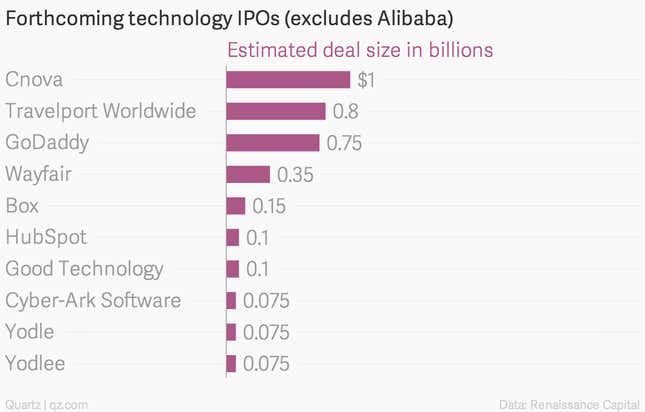 Biotechnology and healthcare have also been on a roll. There have been 51 biotech IPOs this year, and many more are likely to come on the back of significant M&A activity, Renaissance predicts. The deals are smaller, on average, but there are many of them: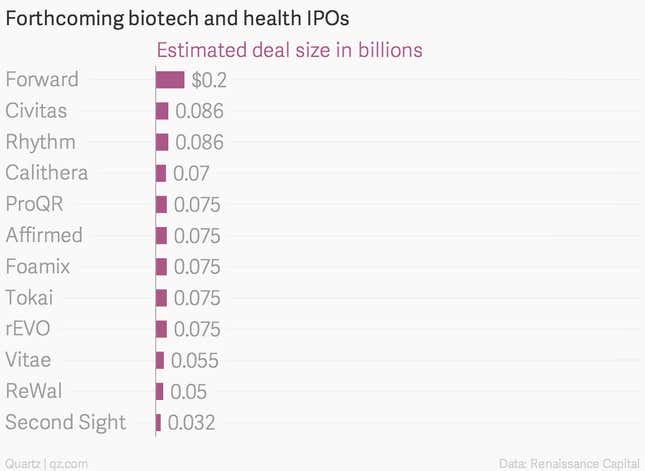 Finance and energy have a significant presence in the IPO pipeline as well. Expected multi-billion-dollar IPOs for Citizens Financial Group and Paramount Group could make those companies the fifth and sixth finance IPOs in the over-a-billion range for the year, compared to just one last year: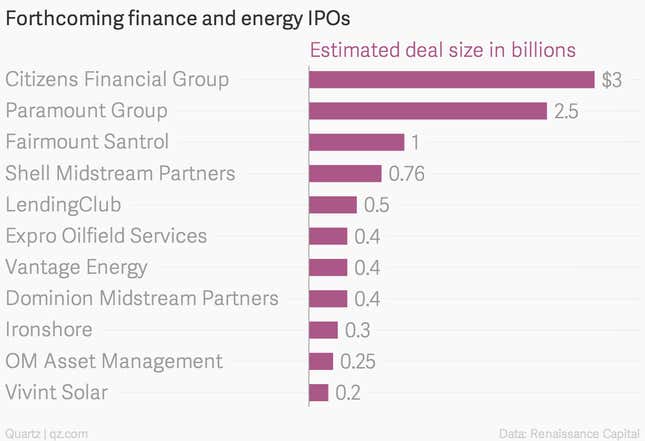 Though there are a number of large deals expected, none of those highlighted in Renaissance's report come even close to Alibaba, which is expected to raise more money than the next nine deals mentioned combined: