Extra fees are one of the most irksome parts of air travel (perhaps even more so than violent co-passengers), but they're also highly profitable.
So it's no wonder that the US hotel industry is following the airlines' lead. Extra fees charged by US hotels are expected to reach an all-time high of $2.25 billion this year, according to New York University's Center for Hospitality, Tourism and Sports Management. That would be an increase of $150 million, or 6%, from 2013, and more than double the fee revenue booked a decade ago.
The increase is due partly to higher occupancy rates, but also hotels instituting a wider range of fees and fee hikes. In addition to stomaching charges for Wi-Fi access or mini-bar purchases, for instance, travelers are now facing fees for things like checking out early and keeping bags at the front desk. There are nebulous adds-ons like "resort fees" just for using the hotel. And similar to airline upgrades for better seating, hotels are now selling upgrades for, say, a room with a better view or faster Internet connection.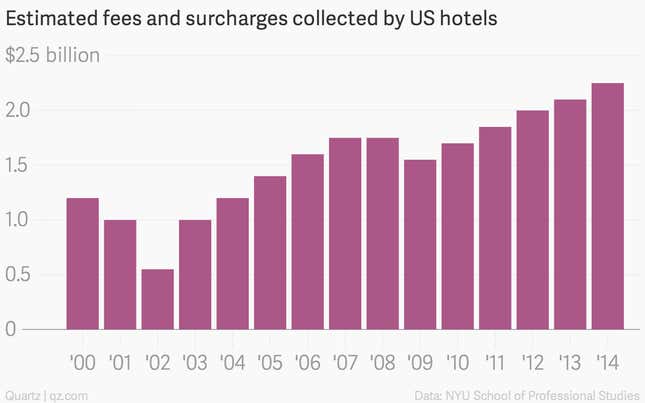 According to NYU hospitality professor Bjorn Hanson, hotels pocket 80% to 90% or more of these fees. These steep profit margins are a cherry on top for the booming US hotel industry, which has been steadily hiking room rates as hotel demand rises.
There is some hope that the trend could reverse. Demand for the simplicity of all-inclusive resorts is on the rise. And in recent years, more hotel chains have rolled out brands catering to younger travelers who are poo-pooing paying à-la-carte. Instead of shelling out more for extra services, they expect things like free Wi-Fi and food on the go available in the lobby.