Move over, Dubai. The new proposed airport for Mexico City, the planet's ninth-most populated metropolis, is as eye-catching as it is daring—and seeks to bring about a long-awaited return to the days of glamorous air travel.
The plans, designed by Foster + Partners, FR-EE (the firm run by Mexican billionaire Carlos Slim's son-in-law Fernando Romero) and NACO (Netherlands Airport Consultants), were unveiled in President Enrique Peña Nieto's state-of-the-nation speech on Tuesday. Peña Nieto said the project would be built on government land near the city's Benito Juarez International Airport, at a cost of roughly 120 billion pesos ($9 billion).
The new, yet-to-be-named airport will have a single, "X"-shaped terminal, six runways, and reportedly enough capacity to handle 120 million passengers annually, four times the capacity of Benito Juarez. That would put the airport ahead of Atlanta as the world's busiest.
According to Foster + Partners, the terminal will measure nearly 6 million square feet, and topped by a vaulted roof with three times the span of a normal airport. The structure's solar and rainwater collection systems will support most of the airport's heating and cooling needs.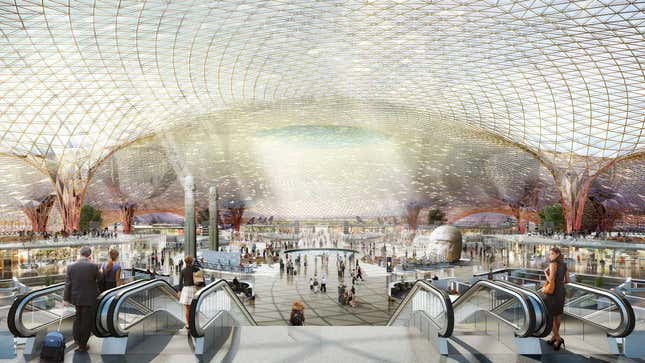 The design follows Norman Foster's groundbreaking 1991 London Stansted Airport, a smaller single-story affair that changed the way modern airports have been built since. Part of the idea behind a unified hub is to give passengers the feeling that they are leaving from their cars directly to their planes without all the hassle in between. In other words, to make the airport experience actually an enjoyable one.