At least one Pakistani institution seems to be weathering the country's ongoing political chaos.
The Karachi Stock Exchange (KSE)—one of the world's best performing markets last year—looks to be bouncing back from declines that began with the prolonged political confrontation between Pakistani prime minister Nawaz Sharif and opposition leaders Imran Khan and Tahirul Qadri.
After plummeting last month as the crisis began, the market's benchmark KSE 100 index is already recovering strongly.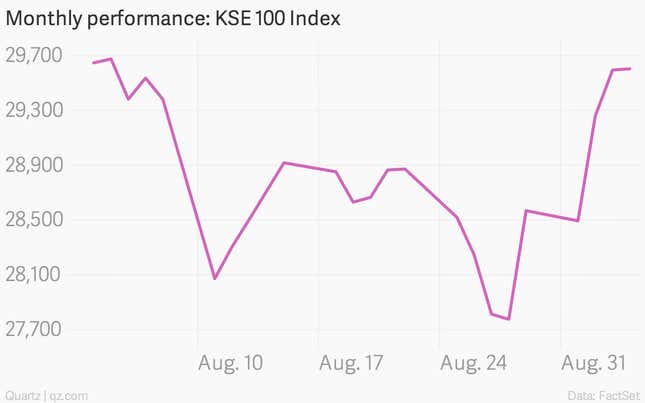 The bounce-back can be traced to the Pakistani military's statement in late August that it plans to help find a solution to the crisis.
That said, the KSE 100 still is some way away from its peak in July. The current political standoff kicked off on August 14, Pakistan's Independence Day, when cricketer-turned-politican Khan and Qadri, a Canada-based cleric, decided to march to the capital city of Islamabad.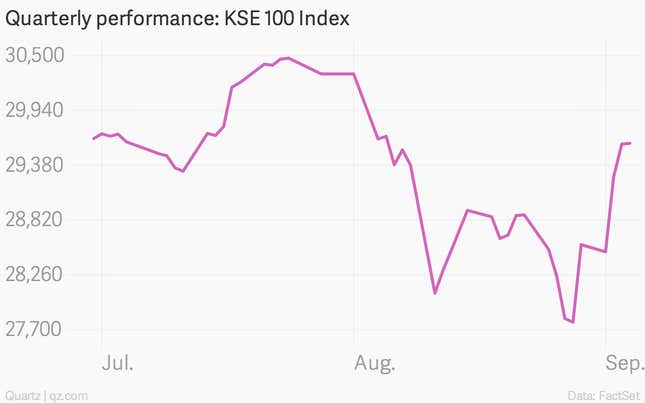 In recent years, the Karachi Stock Exchange has performed remarkably well, in spite of a troubled economy and the fact that less than a fourth of the companies listed on it are actually traded.
Some of this growth has been attributed to a January 2012 amnesty, which allowed investors to buy shares "with no questions asked about where their money came from."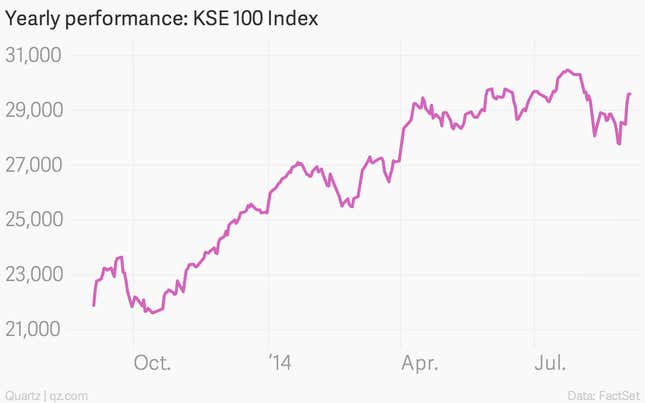 While that may be a silver lining amid the turmoil, the impact of the crisis is still being felt on the economy—Chinese President Xi Jinping has cancelled a visit to Pakistan, along with $34 billion of badly needed investments that he was likely to bring with him.