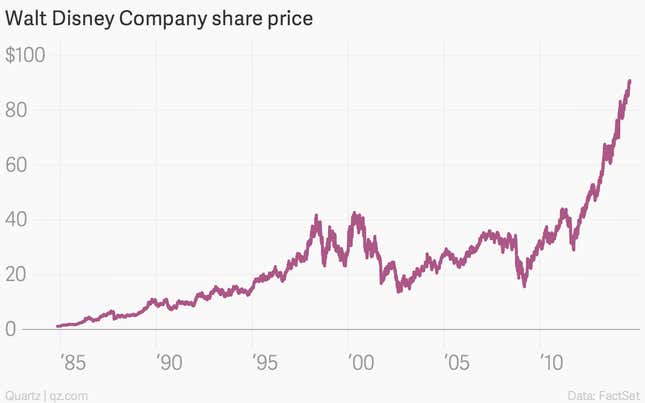 Shares in the Walt Disney Co. are flirting with their highest levels since the company went public back in 1957. (Disney traded on the over-the-counter markets in the 1940s, before it was listed on the New York Stock Exchange).
The stock touched a record high yesterday ($91.20) and also closed at a record high ($90.94) earlier this week. It is within a whisker of those levels again today.
The Disney story—a 1920s cartoonist builds one of the world's most successful media companies that has endured to this day—is the kind of fairytale you'd expect to see in one of its own animated movies. About a decade ago, the company was beset by boardroom infighting and shareholder dissent. Today it is in a position of strength, a phenomenally successful "old" media company—and a terrific investment for its shareholders. Since 1984, which is as far back as FactSet's data goes, the stock has increased by nearly 8000%. The broader market is up about 1,100% over that period.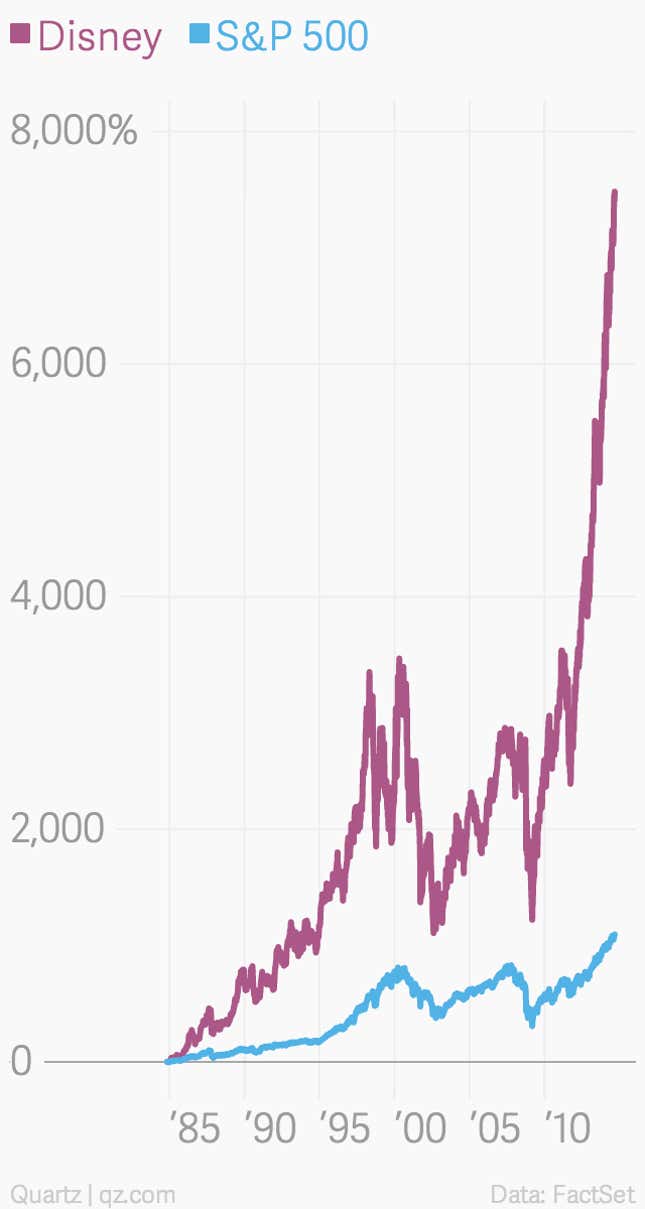 Its current market value of $155 billion makes it pretty much the biggest old media company out there, even bigger than Comcast, which in addition to owning America's biggest cable network business also owns the film and television giant NBC Universal.
Disney has some extremely valuable assets, including its theme-parks business, broadcast network ABC, its film and studio divisions, and a controlling stake in the sports network ESPN.
Earlier this week, analysts at Morgan Stanley described Disney as the "un-media" story of the year. Whereas other film studio companies are suffering from one of the worst summers at the box office in years, Disney's studio business is on track for a record year, thanks largely to the huge success of the animated feature Frozen. And whereas other television companies are suffering from a weak advertising market, Disney's cable networks business is growing, thanks largely to ESPN and carriage fees from pay-TV distributors.
In a world where content is king, Disney seems to be in a pretty well-fortified castle.