New York Fashion Week is a multimillion-dollar storm of commerce, glamour, social media, and general debauchery, and the person who keeps it all on schedule is not a screaming diva with a headset, nor an intimidating editrix presiding behind dark glasses. No, the industry's premiere power player is a sweet, petite redhead who favors red and pink dresses to fashion's typical uniform of head-to-toe black. Also, she's in her 90s.
Long before women approached equal footing in the workplace, Ruth Finley moved to New York, started her own business, and built what today would be called a killer app. Today, after nearly 70 years at its helm, she's a wealth of information for entrepreneurs who hope to build businesses with longevity.
Since 1945, Finley's creation, the Fashion Calendar, has kept the industry running on time. Beloved in its iconic pink printed format and now published online, too, the bi-weekly year-round calendar is one of the industry's most indispensable tools, especially this week. In the 1970s, when Diane von Furstenberg wanted to present her new fashion label to editors, she called Finley to find out what to do. Today, if Marc Jacobs wants to have his show at 6pm instead of 8pm, Finley clears the surrounding calendar.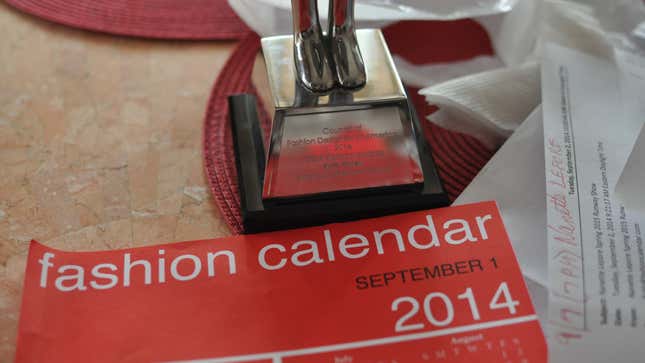 For decades, she has run the subscription-based business independently with a small staff, in hopes of handing the company down to her grandchildren. Her late husband, Irving Lein, was a sportswear manufacturer. The couple had three sons.
"Then it turned out that my oldest granddaughter became a brain surgeon," Finley says. "My next one became a big lawyer, and the others are too young. [The Fashion Calendar] was like my first baby in a way. I realized, to keep it going—and I hope it'll keep going—it had to be sold to a reputable place."
The buyer she found, the Council of Fashion Designers of America (CFDA), will take over the reins of the Fashion Calendar in October, bringing on one of Finley's employees, while the other will retire. Finley, who the organization says "functions as traffic director, mother confessor, psychiatrist and referee" to the industry, will stay on as a consultant.
This week, she can be found attending some of the hundreds of fashion shows she helped to orchestrate. On the eve of New York Fashion Week, Finley hosted Quartz in her apartment on Manhattan's Upper East Side and talked about how she's stayed on top—and on time—all these years. Here's what we learned.
Solve a problem
Entrepreneurs know this one. During college, Finley visited two family friends in New York—both fashion journalists—who complained about Bergdorf Goodman and Saks Fifth Avenue holding shows at the same time. "That gave me the idea that there should be a clearinghouse so that [shows] would not run into each other," Finley says. After college, Finley returned to New York, and got to work.
Keep your day (or night) job
To launch her startup, Finley borrowed $1,000 from a college friend "who married very well." For extra money, she and her roommate ushered at a theater at night, bringing people to their seats, earning tips for the odd upgrade, and pushing the seats up after the show. (No springs back then.) "We got paid and got to know some of the actors and actresses," she says. "We did that for a few years, at night, so we could work on the Fashion Calendar during the day."
Don't be afraid to be the boss
Finley came to New York when she was about 24 years old, and promptly hired her roommate as her secretary. After Finley described their furnished apartment across the street from the 21 Club and their tandem night jobs as ushers, I framed a question in a way that suggested the two were partners in entrepreneurship. Not missing a beat, Finley gently corrected me: "Yes. Well, she worked for me. It was my business."
Prove your worth
Finley says it took the Fashion Calendar five years to earn any money. Because she was selling an service that had never existed before, some designers figured they didn't need it—including, initially, Norman Norell, then a big-name designer who had started out doing costumes in Hollywood.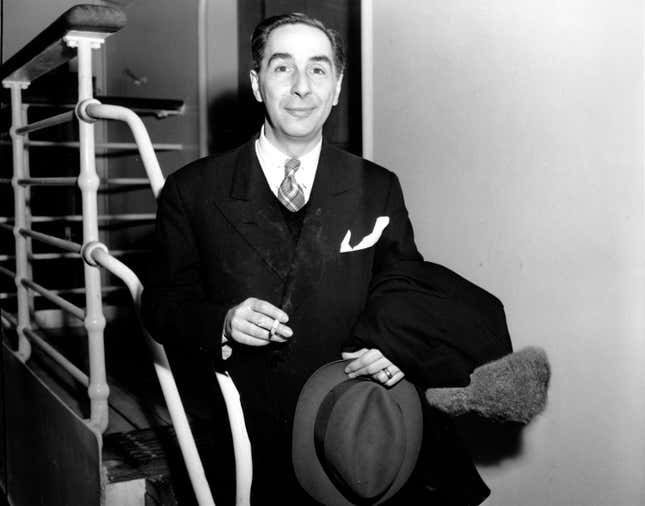 "He scheduled a big black tie event, and ran into a very bad scheduling conflict with one of the big stores because he hadn't checked with us, " Finley says. Norell had to cancel the event because of the conflict. "After that, he wouldn't even let his secretary call us to check his [event] date. He used to call me himself."
Pick up the phone
For both timesaving and personal connection, says Finley, the personal phone call can't be beat.
"Now, even when you're making a date with somebody, most people will say, 'send me an email,'" Finley laments: "'Can you have lunch with me on September 15th?' And then I have to email back and say, 'No, I can do the 16th.' 'Well, I can't do it on the 16th.' And this drives you crazy, and you could do it with one phone call."
 Remain flexible, especially for important clients
Finley is firm, but she's no dictator—and she knows how to play with the players. When Calvin Klein complained that New York's Fashion Week calendar spot after the Europe shows made it look like US designers were copying the Europeans, Finley switched it to its current spot at the front of "Fashion Month." Ditto when Marc Jacobs decided his longstanding 8pm show slot was too late for editors who had to travel that night to London.
"These are people that are very influential," Finley says.
Embrace technology—but don't stray too far from your core
First, the Fashion Calendar was produced on a mimeograph machine (fun fact: Everyone Loves Raymond's Doris Roberts was the typist as a teenager). Then the firm got an electric typewriter. "You pressed a button, and it corrected mistakes," Finley says. "And I thought, 'Oh boy, this is the end.' But it wasn't the end at all. Then we got one of the first computers. It was about as big as this piano, and made so much noise that we had to have a room of its own." That was in the late 1950s or early 1960s, she recalls.
Today Finley's office operates on Macs and she uses an iPad, but she draws the line at social media. "It takes too long," she says. "I don't have that kind of time, you know."
It's extraordinary (and a testament to Finley's concept) that the web didn't kill the need for the Fashion Calendar. Today, one third of her subscribers get the pink print version every two weeks in the mail for $550 a year ("They really so enjoy that," she says) and the rest get it online for $495. A single copy with all its event listings and corresponding contacts—worth its weight in gold for people trying to break into the industry—costs $150. "At the beginning, we charged a dollar for one copy," Finley says.
Keep up your energy
The day we saw Finley, she was double-booked for an evening of celebrating designers at Gracie Mansion, then hearing her friend, fashion photographer Bill Cunningham, speak at the 92nd Street Y. Finley, who declines to reveal her age but confirms it's north of 90 and south of 100, also still golfs and takes the subway. "That's really important, to keep busy," says Finley. "And I enjoy it so much."