British financial markets are unsettled at the prospect of Scotland voting for independence next week. After one poll this weekend put the "Yes" (to independence) camp ahead for the first time, the pound sold off sharply.
Sterling is down by around 1% against the dollar so far today, a huge move in the $470-billion-per-day market for swapping pounds and dollars. It's not hard to attribute some of the decline to the gains made by the pro-independence camp in the polls: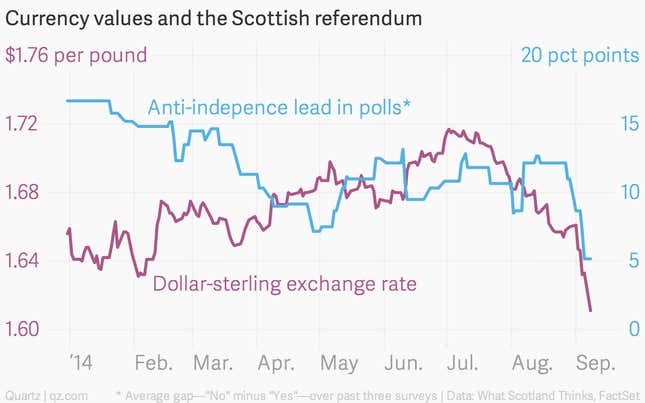 The shares of big banks and other financial firms based in Scotland, or with significant Scottish operations, are also falling.
Why do investors fear an independent Scotland? It's mostly down to the well-worn mantra that "markets hate uncertainty." Huge questions remain unanswered about what currency an independent Scotland would use, how existing debts would be divvied up between Scotland and the rest of the UK, and much else besides.
The upheaval from big banks and others moving their headquarters south—in order to benefit from the safety of London's bigger buffers—and oil revenues remaining up north seems certain to impose costs on what's left of the UK.
Poll watchers are urging caution when interpreting the latest surveys, but nobody denies that the momentum is clearly with the pro-independence campaign. Economically speaking, will an independent Scotland be "Spain without the sunshine"? Will its yawning budget deficit almost immediately trigger an IMF bailout? Will the Russians invade?
The "Yes" camp has successfully batted away these worries, emphasizing the long-term gain of independence over any short-term pain. This "positive vision" is winning over voters who are turned off by the perceived fear-mongering of the "No" campaign. A series of concessions hastily hatched by the government in Westminster—the Great Scots Giveaway, in the tabloid argot—could either win back some of these wavering voters, or bolster the pro-independence cause in the face of what looks like desperation in London.
The only thing for certain is that it will be a very close vote on Sept. 18. In the meantime, investors would rather sell up and sit it out on the sidelines.