Devoted Twitter users have been freaking out lately about potential changes to the service. They're worried that Facebook-style, algorithmically filtered news feeds are about to be thrust upon them. And they are upset that tweets that have been favorited (not re-tweeted) by people they follow are now infiltrating their timelines.
Meanwhile, Twitter's share price continues to stage a quiet and surprising recovery. On Monday the stock closed at $52, its highest level in about six months.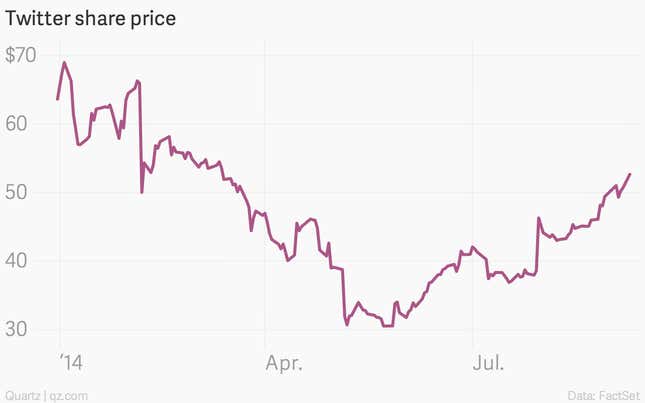 The stock is still down sharply in 2014, but it has now retraced roughly half of its losses after a savage selloff earlier this year, when disappointing user growth prompted serious people to proclaim its death.
In recent weeks, Twitter has appointed the former Goldman Sachs banker Anthony Noto as its CFO, to sell its message on Wall Street. He seems to be getting through. Investors seem particularly pleased that the company is about to add another revenue stream in e-commerce. Shares climbed by about 2.7% today after the company announced it would add a "buy" button, allowing users to make purchases in promoted tweets.
The changes that are upsetting power users also have merit from a user growth (and, by extension, investor) perspective. As we've noted before, the main reasons why people quit Twitter relate to information overload—the inability to find the content they were seeking, or to isolate it out from a deluge of other tweets, problems that could be solved through better curation and filtering.
For better or worse, Twitter's health is going to be judged from now on by the performance of its stock price. We're only a couple of months away from the one-year anniversary of its IPO. Thus far the stock has been holding above its initial public offering price, unlike Facebook shares, which ended their first year deeply in the red but have strengthened significantly since then.
For the record, it seems unlikely that the company will ever completely force all users to accept filtering.
But given Twitter's relatively small size (it still only has about one-fifth the number of users that Facebook has), the company probably is less worried about upsetting its most devoted users than it is about attracting new ones.