When Apple announced its new iPhone today product marketing head Phil Schiller touted its smaller size. The new iPhone 6 is 6.9 mm thick and the iPhone 6 plus—a new, larger device—is 7.1 mm thick. Schiller stood in front of the screen at the Flint Center and showed an image of the iPhone 5s, their immediate predecessor, next to the new phones: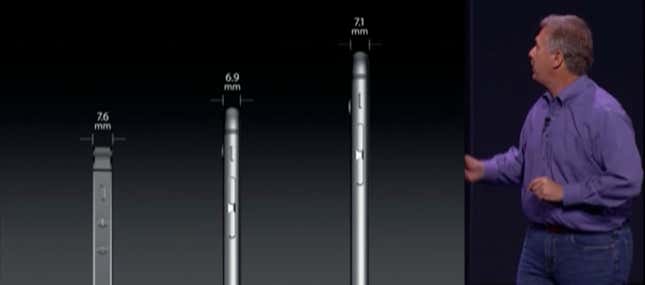 The iPhone 6 is 9.2% thinner, but this image makes the phone appear 30% thinner, by using different lighting on the new phones and the iPhone 5s. The iPhone 5s is lit from the sides whereas the new iPhones are lit straight on, creating a slimming effect on the rounded edges of the new phones. That black outline around the new phones? That's still part of the phone—even when it blends into the background of the presentation.
Also apparently not included in Apple's announced width of the new phones is a protruding camera lens. The iPhone 5s' lens is flush with the rest of the phone, adding no extra thickness.