The number of independent bookstores in the US rose by more than 20% between 2009 and 2014, according to the American Booksellers Association, a finding that may surprise bibliophiles who worry about rising costs for smaller shops and competition from larger chains.
As Slate reported yesterday, sales at indie bookstores have grown by about 8% each year since 2011, exceeding the growth of book sales overall. The article's author argues that, in the market for print books, "the biggest losers are not—as was once assumed—the independent booksellers, but rather the large book chains." Look no further than Borders Books; after forty years of business, the behemoth closed its last 399 US stores in 2011. Barnes & Noble is similarly confronting the threat of extinction. If it tanks, the rise of e-books, e-commerce, and Amazon in particular, will be to blame.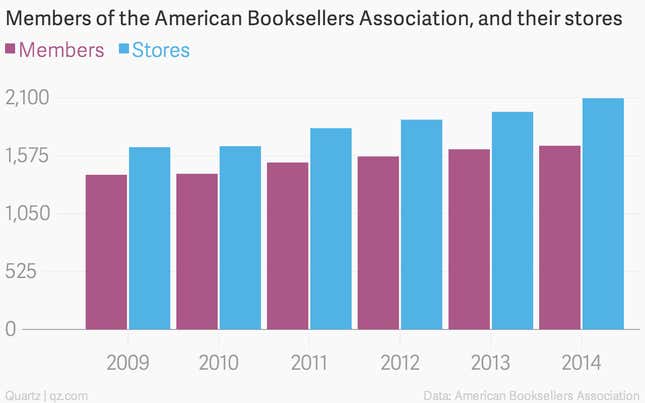 By contrast, smaller bookstores aren't competing with the low prices and other efficiencies offered by Amazon. Instead, indie dealers offer the experience of browsing a curated selection of books in a charming environment. The best indie bookshops add to that the book signings, author interviews, and customer service that contribute to a basic human need: warm and fuzzy feelings.