It may or may not be the most important meal of the day for personal health, but one thing's for sure: Gone are the days when Americans relied on cereal with milk and a side of orange juice to kickstart their mornings. So, too, are the days when General Mills and Kellogg could coast on profits from Wheaties and Cornflakes.
The New York Times' recent reporting on the decline of cold cereal in the US, then, has been a long time coming. In fact, US cereal sales have been off their peak for about two decades now. But the decline has suddenly accelerated, focusing new attention on America's changing breakfast habits.
A desire for portability—being able to eat breakfast on the way to work or school—is one factor. Then there are those persnickety millennials, who either don't eat breakfast at all, hate processed food, are embracing Paleo, or are allergic to gluten. But perhaps cereal's biggest obstacle now is this: Consumers are going crazy for protein. More than half of Americans want more of it in their diets, and a quarter of them examine nutrition labels specifically for information about a food's protein content. At home, they're gobbling up Greek yogurt. Away, they're now finding an array of egg-and-cheese wraps, sandwiches, and scrambles at full- and quick-serve restaurants.
If it feels like yogurt has taken over the dairy case at your local supermarket, you aren't imagining things.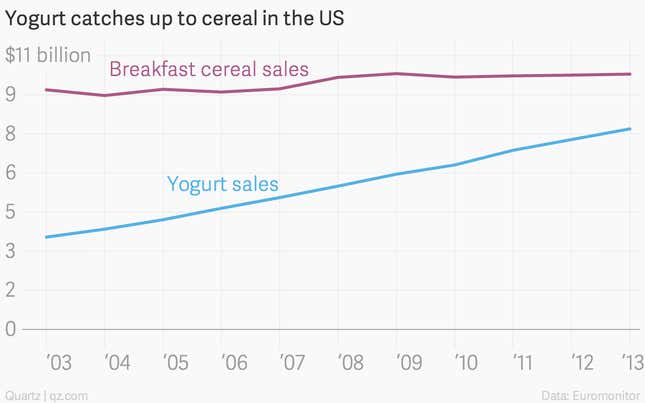 Greek yogurt, in particular, has become such a popular source of protein that it's being tested as a new Taco Bell "Power" breakfast menu item—a prime example of the menu enhancements and marketing prowess that restaurants are employing to draw more breakfast eaters out of the home and into the restaurant booth (or, in many cases, the drive-thru).
Their strategies are working. According to market research from NPD Group, US restaurant patrons have been going out for fewer lunches and dinners, but more breakfasts, than usual, and 2013 was the fourth year in a row that the number of consumer breakfast visits to restaurants increased. Today, "tons of dollars are being spent to convince consumers to try breakfast out of the home," says Eli Rosenberg of Food Genius, a data company that tracks restaurant trends.
Weekday mornings are newly competitive turf for fast-food restaurants, especially, where breakfasts accounted for 92% of traffic growth between 2007 and 2012. Why else do you think Taco Bell came up with the Waffle Taco?
All this has been terrible for cereal sales. Among the 10 best-selling cereals in the US, half saw their sales fall or stagnate in the last 12 months.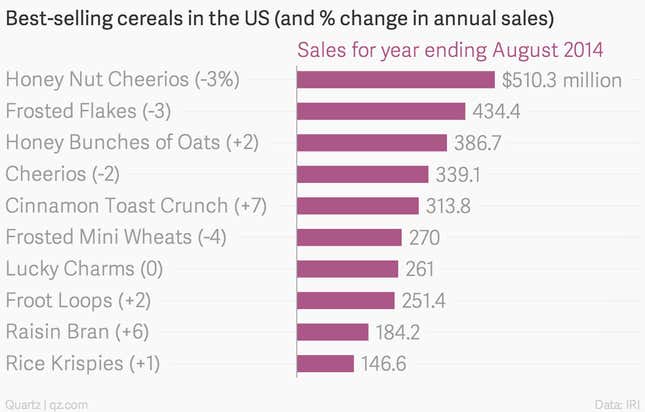 General Mills just reported that its US sales are down 5% from last year; on a Sept. 17 conference call with investors, CEO Ken Powell called the cereal market "challenged." He's optimistic about sales of Cinnamon Toast Crunch, which increased 7% this year after the cereal was "renovated" for "more cinnamon taste," and he's excited about the advent of Cheerios Protein. For now, though, it's easier for Powell to discuss Yoplait yogurt—sales are up for both the Greek and original varieties.
For those protein-conscious consumers, here are some stats to consider:
One serving of Honey Nut Cheerios with 4 ounces of low-fat milk = 7 grams of protein (4 grams from milk), 15 grams of sugar (6 grams from milk), 170 calories
One single-serving container of fat-free Chobani peach yogurt = 13 grams of protein, 7 grams of sugar, 140 calories
One McDonald's Egg McMuffin = 17 grams of protein, 3 grams of sugar, 300 calories
Taco Bell egg-and-cheese Waffle Taco = 8 grams of protein, 8 grams of sugar, 260 calories