The world's top fashion editors are at New York Fashion Week. That means they're missing big news in the world of camel couture.
Thousands of miles away, in Abu Dhabi, a reporter at The National got the scoop on "the must-have camel accessory of 2015." Al Shibla, a company previously known for its upmarket camel beauty supplies, is branching out and selling apparel. Specifically, "a full-body leotard that helps race camels run faster and 'beauty' camels stand taller."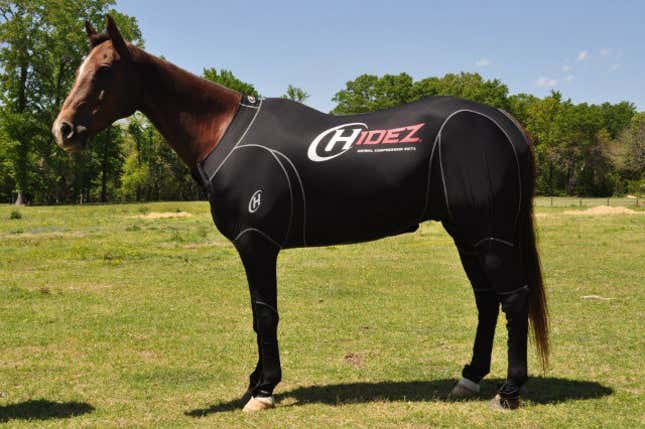 At the Abu Dhabi International Hunting and Equestrian Exhibition, which began yesterday, Al Shibla launched a new line of compression suits for race horses and hounds. It's not uncommon these days to see horses wearing the suits before and after competitions to help increase blood flow. And skin-hugging "performance" sportswear (for humans) is basically what made Under Armour a multibillion-dollar company today.
Why shouldn't camels get in on the action? Camel racing is big business in the Emirates, and a source of innovative new technologies. And less athletically-inclined dromedaries are just as prized for wowing the crowds at beauty pageants.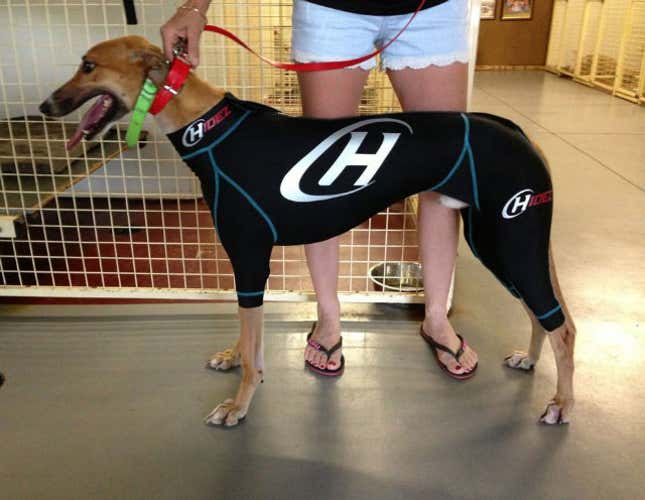 Compression suits, which cover just about every part of an animal except its head, should improve the performance of racing camels and the posture of show camels, Al Shibla claims. It is still testing top-secret prototypes in Australia with a partner firm. The company will first target the racing market before designing more daring suits for "tall and curvaceous" beauty camels.
But making a form-fitting suit for a camel presents several technical challenges that generally don't come up when dressing people, horses, or dogs,  as the The National explains:
It's not just the variability in hump size, but hump placements that ­matters.

It's expected that camel suits will be made to measure for each individual. A camel's vital statistics? Neck to hump, hump to tail and shoulder to hip.
In Abu Dhabi, the new suits have gotten a wary but warm reception so far, according to Birgit Kemphues, who runs Al Shibla. "They are looking all the time for new items and how they can improve the speed of their ­camels," she told The National.