Here is a slice of China's latest economic stimulus plan in action, which also nicely illustrates the money-go-round that is China's state-owned economy.
Demand for high speed rail services in China has been muted. That is due to a terrible crash that killed dozens of passengers last year and was caused by design flaws. High speed rail is also struggling because of the high cost of tickets and a huge airport building program.
But in a bout of far-out stimulus logic, China's Ministry of  Railways will spend 204 billion yuan ($32 billion) in November and December, according to economics consultancy Gavekal Research.  That is more than the MoR spent in the entire first half of this year, and is happening even though "MoR's finances show a net loss of 8 billion yuan in H1," Gavekal writes in a note.
Here is Gavekal's chart showing how much the MoR's spending is increasing.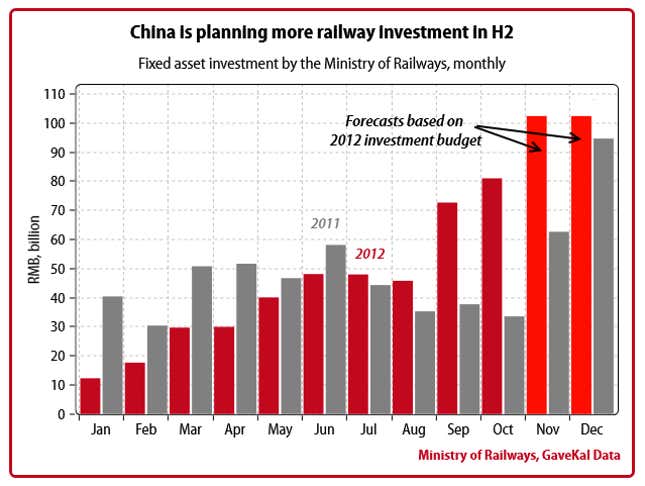 This next chart shows the rail ministry is borrowing almost all of the money for its expansion from China's government by issuing bonds, the buyers of which will mostly be Chinese state-owned banks and insurers.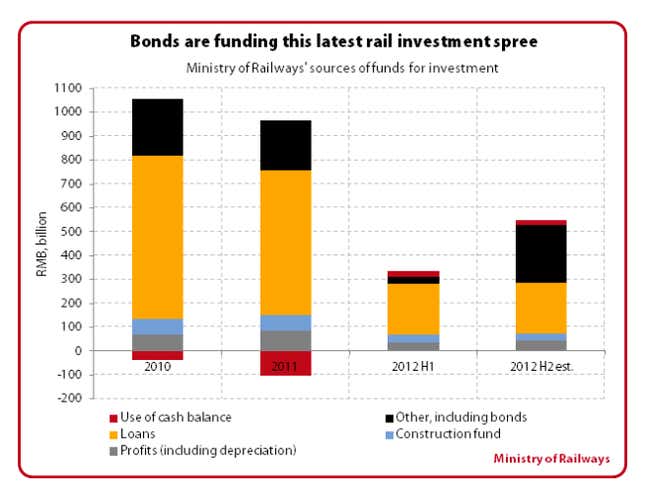 As a government agency the MoR enjoys an AAA credit rating from Chinese debt ratings agencies despite last year's crash. If last year's disaster had happened to a US rail operator, it would probably be dealing with a vast amount of class action claims and would likely not boast a triple A rating.