Last week, a colleague asked me facetiously, in regards to New York Fashion Week: "So who won?" It's a question that could be answered many ways, of course. Marc Jacobs always wins. Opening Ceremony got coolest show. Hood by Air is the label to know. Thom Browne takes best use of hats. Eckhaus Latta, weirdest shoes. And so on. But according to Twitter metrics and The New York Times, there was one winner and his name is Michael Kors.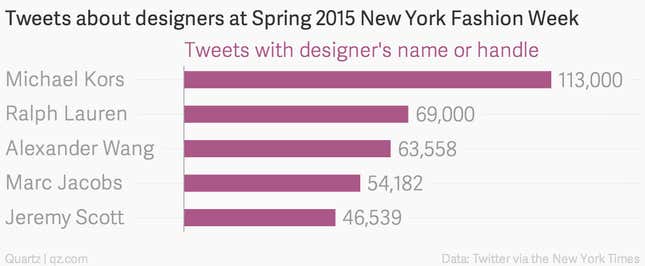 The Times reports that between the official dates of New York Fashion Week, September 4-11, Kors' name and/or Twitter handle was shared about 113,000 times. But does that really mean he won?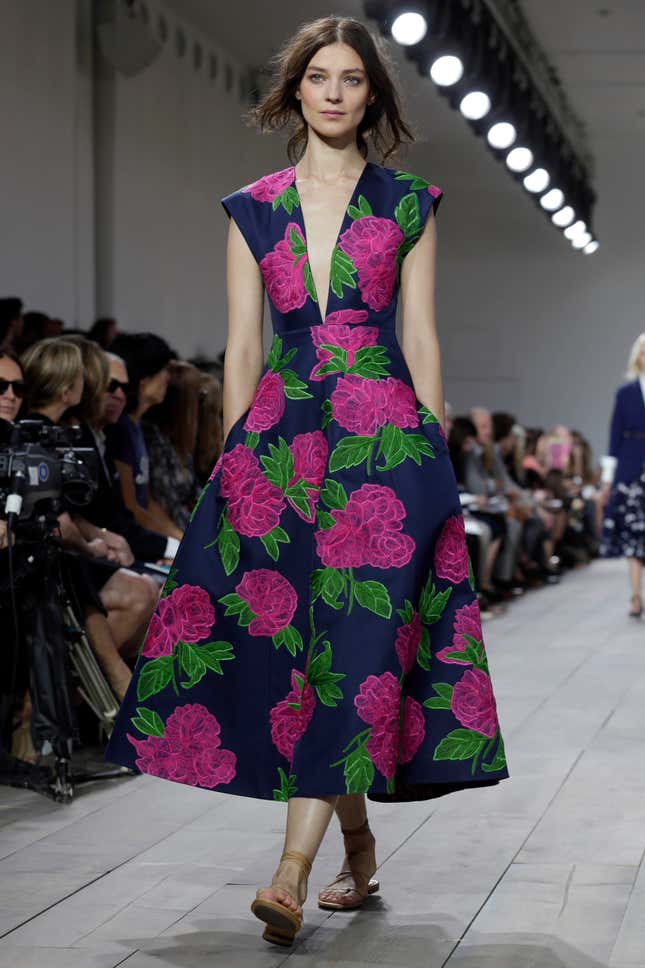 In Kors' case, it very well might. With a business expanding in Asia and a near 50% jump in net sales last quarter, the designer has many reasons to be optimistic. His sunny, crisp collection reflected that.
Once upon a time, Fashion Week was a mere trade show for a relatively short list of editors and buyers. Today, designers grapple with a global audience that's exploding via social media, to varying results. Runway shows are giving way to performance art and all-out spectacle, which often is rewarded by the Twitter-sphere.
While the clothes were important, Kors' popularity on Twitter last week probably had as much to do with the celebrity presence at his show—Jessica Chastain, Jada Pinkett Smith, Olivia Munn, and Mary J. Blige were all in attendance—and a social media-friendly livestream complete with #Korslive hashtag. It also couldn't have hurt that Kors gave fashion bloggers front-row treatment.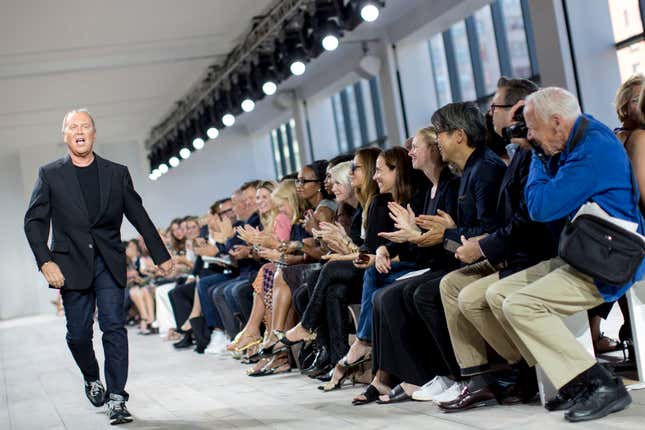 But at least we saw the clothes. The same could not be said of Ralph Lauren's "4-D" runway show for Polo: a video projected onto the mist of a fountain in the middle of Central Park. If the goal of the spectacle was to be shared via social media, it worked. But I gave up on Instagram that night, when feeds were clogged with blurry photos of the video projection, captured in the dark. Perhaps in-person it was magical, but the photos left something to be desired. In any case, topped off with Julianne Moore and a much-photographed shirtdress at Lauren's eponymous runway show the following morning, it earned the designer the number two spot on the Twitter list.
Miley Cyrus undoubtedly gave Alexander Wang a bump when she wore pasties to his after-party, and reveled for the many, many cellphone cameras in attendance. She walked the runway at Jeremy Scott's show, too, which may be the only thing a lot of people could tell you about it.
I didn't attend Marc Jacobs' show, but from the comfort of my desk I did watch the live-stream, accompanied by a #MarcJacobsLIVE hashtag on Twitter. Attendees were provided with headphones through which a sensory audio soundtrack was streamed. The same was provided online, so I put in my earbuds and heard a cacophony of sound effects and a narrator who recalled the computer-generated voice of Stephen Hawking, while models strode down a hot pink shag carpet, around a matching house.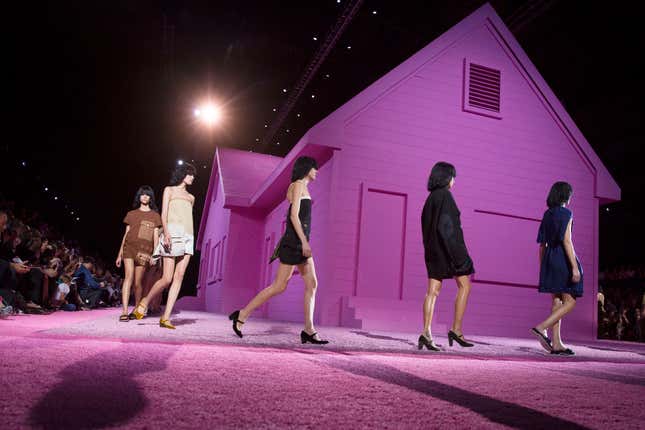 At the end of the show, the narrator left us—I felt included in the audience, even at my computer—with a parting thought, excerpted from the 1976 short film "The Girl Chewing Gum," before the models made a final exit to silence and nature sounds: "There's been too much going on. Can we move the house to a place where nothing ever happens and things are slower? I'll be happy there."
Perhaps we tweeted slightly less about Jacobs' show because we were consumed by the experience—and that may have been part of the message.