Apple sold 4 million of its new iPhone 6 and iPhone 6 Plus phones in 24 hours—a record, according to the Wall Street Journal (paywall). How does that compare to other iPhone launches—and its normal sales rate?
Over the past year, through the company's June quarter, Apple sold 163.7 million iPhones. That's about 449,000 per day.
The Christmas period, Apple's December quarter, is typically the busiest. Last year, Apple sold 51 million iPhones in 91 days. That's about 560,000 per day.
Apple sold 9 million iPhone 5S and iPhone 5C models on opening weekend last year, including pre-orders. Previous opening weekends: 5 million for the iPhone 5 (including 2 million pre-orders in the first 24 hours); 4 million for the iPhone 4S; 1.7 million for the iPhone 4; "over 1 million" for the iPhone 3GS; and 1 million for the iPhone 3G.
Apple sold 270,000 original iPhones during the first 30 hours of sales in June 2007.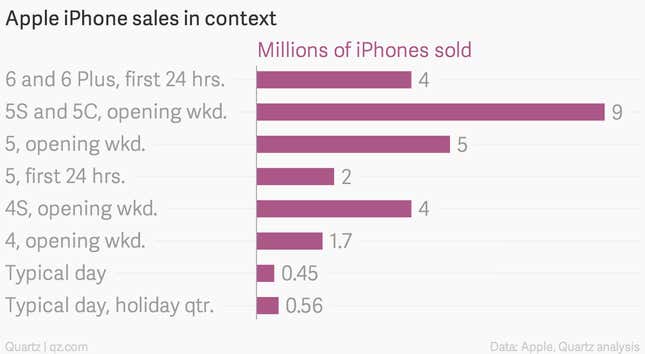 How will this year's opening weekend sales tally up? They actually may be smaller than last year's for two reasons. First, supply—Apple quickly sold out of its first wave of iPhone 6 pre-orders. It's not known how many units are being saved for walk-up customers, but it would be surprising if it was enough for the company to get close to last year's opening weekend sales tally. And second, it's not quite an apples-to-apples comparison—the iPhone lineup is broader and priced differently this year.
Still, compared to other phone launches, and launches of consumer electronics in general, 4 million in 24 hours is pretty impressive. For example, Microsoft boasted last year that its Xbox One set a new record by selling more than 1 million units in its first 24 hours.