Fermented apple juice used to be big in the US—or, rather, in the 13 British colonies that became the US. In colonial America, hard cider was more popular than whiskey, wine, and beer; scholars estimate that 18th-century residents of Virginia and Massachusetts were each drinking between 15 and 35 gallons of the stuff a year. During the 19th century, though, consumption declined, and the spirit never quite recovered after the era of prohibition.
Today hard cider accounts for roughly 1% of the US beer market, according to Dan Rowell, CEO of the Vermont Hard Cider Company, whose Woodchuck Hard Cider is one of the top-selling American brands. But Rowell and other cider makers are witnessing a veritable boom in business, perhaps owing to a deepening interest in craft brews and the wave of adults seeking gluten-free alternatives. Like beverages brewed from grains, fermented apple juice comes in many tastes, and it's just as ripe for small-scale, local appeal.
Rowell recently told the Los Angeles Times that he predicts cider will capture 5% of the beer market before 2020. A new Woodchuck Hard Cider processing facility opened in Vermont in August; it's 100,000 square feet and reportedly can fill and cap 600 bottles of cider a minute.
Since 2009, hard cider has been the fastest-growing segment in the alcoholic beverage industry.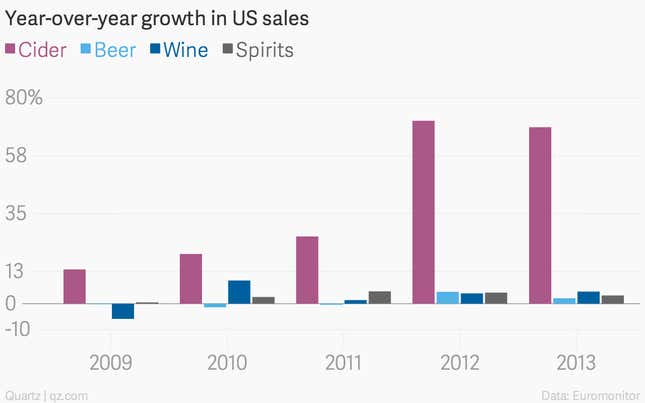 Accordingly, big companies like MillerCoors and Heineken are getting in on cider pressing. Anheuser-Busch InBev, the world's largest beer company, introduced Stella Artois Cidre in 2013 and Johnny Appleseed hard cider in March 2014. Analysts predict that Boston Beer Co., which makes Samuel Adams beers, will owe a fifth of its sales volume to its Angry Orchard brand of cider by the end of 2015. Angry Orchard has climbed past European brands such as Magner's Irish Cider to become the top-selling cider brand in the US. (Surprisingly, though, the Boston Globe reports that Angry Orchard makes its cider from apples harvested in Italy and France. That may be because there aren't enough cider-worthy apples in America to meet the increased demand.)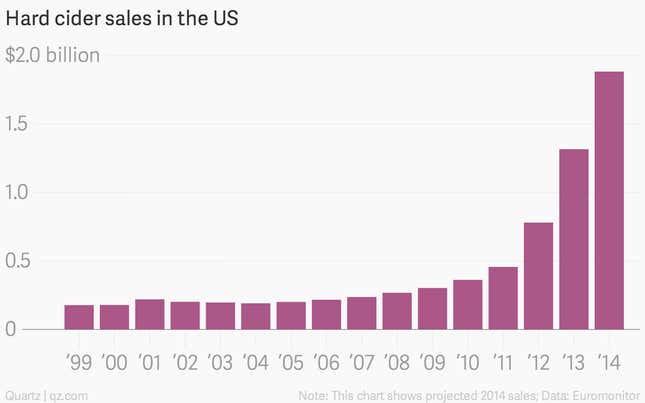 Some cider makers are hoping for policy changes related to the way alcoholic beverages are labeled in the US, arguing that current rules make the definition of "cider" too narrow. It can have only 7% alcohol by volume before being taxed as wine, and can only be lightly carbonated before being taxed as sparkling wine. Cider makers have said this is too fine a line to walk, especially since it's tricky to predict exactly how alcoholic their experimental small batches will be. They're lobbying to have the federal definition of hard cider changed to accommodate 8.5% alcohol by volume and to mimic EU standards on carbonation. Alcoholic cider has been popular in the UK for at least a decade and reportedly accounts for 15% of the beer market there.