Sony, the Japanese consumer electronics colossus, had some bad news for its shareholders last night.
The company that once made Walkmans and still makes Playstations and televisions (and owns major film studios and record labels) said it expects its annual loss to be nearly five times as much as previously anticipated. It is also suspending its dividend for the first time since 1958.
The reason: a ¥180 billion ($1.6 billion) write-down of its mobile communications segment, which accounted for about 20% of the company's total business last year, according to FactSet.
In sum, Sony now expects to earn less from that business than it had previously forecast. Why? It's changing its strategy in mobiles to concentrate on premium products and reduce the number of mid-range models it produces. Over the long term, it thinks this will deliver more stable profits. The company now expects to lose about ¥230 billion this fiscal year (which ends next March), which would be its sixth loss in seven years.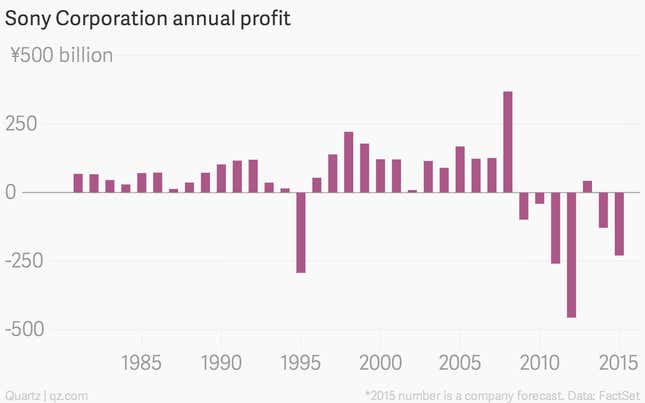 Sony lost its way years ago, thanks largely to smartphones. Not only did the smartphone replace a smattering of products Sony once dominated (like MP3 players, cameras, and video recorders); Sony has just never been very good at selling smartphones. It has been ruthlessly outmaneuvered by Apple, which dominates high-end smartphones globally, and Samsung, which dominates lower-end smartphones.
"Sony makes too many models, and for none of them can they say, 'This contains our best, most cutting-edge technology,'" Yoshiaki Sakito, a former Sony executive, told the New York Times in 2012. "Apple, on the other hand, makes one amazing phone in just two colors and says, 'This is the best.'"
Sony is still expecting its sales to increase slightly this year. But that would be well short of its 2008 peak, not long after Apple started selling the iPhone.