Electronics supplier Foxconn is churning out 540,000 units of the iPhone 6 and 6 Plus every day from a factory in mainland China. But unfortunately for the country's 700 million smartphone users, every single one of them is being exported.
The sale of the new iPhone has been delayed in China, possibly because of regulatory hurdles from Beijing. The state-run Xinhua news agency reported that the devices' radios have not yet received the proper authorization from the Ministry of Industry and Information Technology, a process that typically takes one to two months.
The delay is prompting no small amount of consternation among the consumers who make up Apple's second largest market by revenue. Chinese Apple fans are known to go to extremes to get the latest products—0ne man in Shanghai is allegedly offering to share his girlfriend in exchange for the funds to buy an iPhone 6—and in the absence of legitimate sales channels they set to shell out several times the normal retail price to buy iPhones from Hong Kong's flourishing grey market.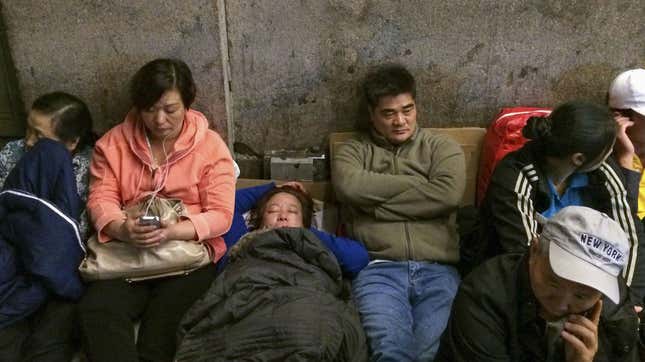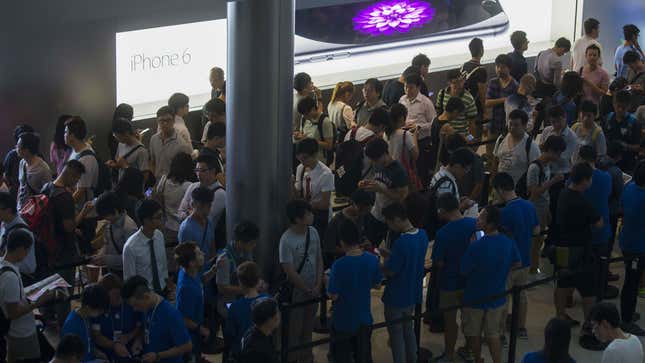 Dealers in Hong Kong expect to sell the gold 128 gigabyte iPhone 6 Plus for about HK$20,000 ($2,580), more than twice as much what it is selling for on the Apple website. They've sent staff to buy handsets of the new iPhone in Tokyo, where dozens of Chinese shoppers were lining up outside of Apple stores yesterday. Similar lines were seen in New York, where the phone doesn't go on sale until 8am EST, and in Singapore.
Within China, some retailers on Taobao are selling what appear to be counterfeits. And some Hong Kong residents are planning to hawk their newly bought iPhones on streets of the nearby mainland city of Shenzhen.
The smuggling is illegal on two counts—dealers are avoiding steep import duties and selling mobile phones that haven't yet been approved by the Chinese government. Still, Neil Shah, a devices expert at Counterpoint Research in Mumbai, told Bloomberg he expects as many as 5 million iPhones could be smuggled into China before the official release date, which still has yet to be announced.