In the midst of Fashion Month around the world, Quartz created an interactive chart of the Instagram fashion universe, based on an analysis of 1.8 million accounts. You can read more about our methodology and explore the feature for yourself here.
We shared some of our initial observations of the chart in the original post. Here some other things we've noticed as we've continued to explore. (Please let us know what you find as you do the same!)
Beyoncé, Cara Delevingne, and Vogue are Orion's Belt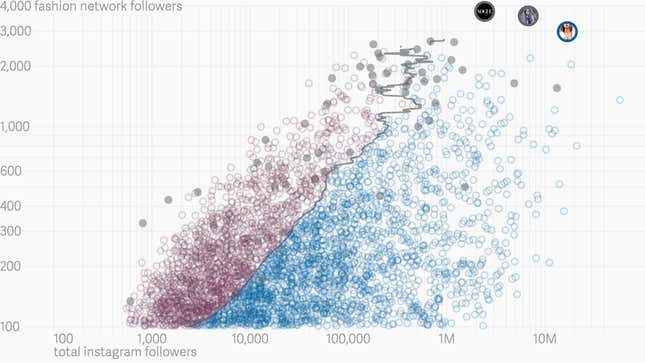 Just as the constellation Orion's Belt (also known as "the three kings") is visible from practically everywhere except the polar ice caps, Beyoncé, Cara Delevingne, and Vogue's US edition shine brightest in the fashion Instagram universe.
If we remove the users on our chart from the fashion context, Instagram itself comes out on top in terms of sheer number of followers, with Justin Bieber and Kim Kardashian in second and third place. But when we looked through a fashion lens (see slides 2 and 3), it became clear that within the industry, a different sort of celebrity rules.
In the fashion world's Instagram universe, it's all about the magazine of record, Cara Delevingne, and Queen Bey—in that order.
Even supermodels can be "niche"
There's a certain sort of supermodel—young, social media-savvy, and selfie-prone—that Vogue has gone so far to dub an "Instagirl," including Delevingne, pictured below with fellow Instagirl Karlie Kloss.
And then there those such as Daria Werbowy, whose @dotwillow account portrays a life less glossy, via her own artistic photographs of nature, road trips, and friends.
Werbowy's photos include the odd selfie or campaign image, but still probably appeal more to her thirty-something contemporaries than the younger users who dominate the service (pdf).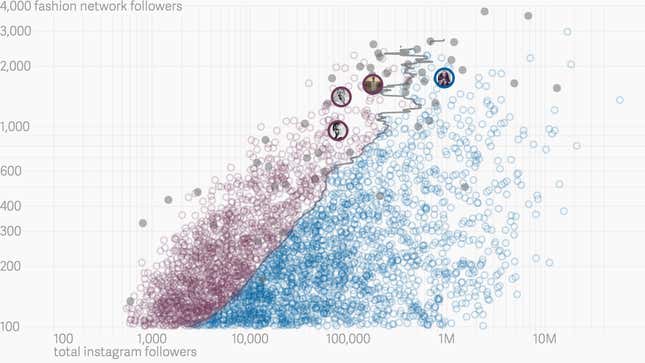 Supermodels of a certain age—namely, over 35—seem to fall largely on the left side of the line, which we identified as the more niche, insider sector of the fashion Instagram universe. (See slide 4.) We would hardly call Carolyn Murphy, Amber Valletta, or Christy Turlington "niche," but the algorithms did. Naomi Campbell was an exception, with a broader appeal.
One of our favorite fashion world documentarians didn't make the cut
Photographer Landon Nordeman started shooting incisive, evocative, and sometimes unforgiving photos of New York Fashion Week's inner workings in September of 2013. Those photos were published by New York Magazine's fashion site, the Cut. (Full disclosure: Nordeman's work has also appeared in Quartz's sister publication, the Atlantic.)
This season, he's back on the job, adding stops in Milan and Paris. He's also posting images to his own Instagram account, which is fantastic for lovers of fashion and photography alike—or just for voyeurs. Nordeman trains the same clear-eyed, curious lens on the fashion world that he does on subcultures such as the pageant circuit and dog shows.
Had we included Nordeman in our fifty "seed" accounts for the interactive feature, he would have appeared in the chart. Since we didn't, he required 100 "in-network" followers to turn up. The last time we checked, he had 93. The moral of that story? It's a big universe out there—and some stars are rising fast.