As you were. The United Kingdom remains united, with Scots rejecting independence by an unexpectedly large margin of 55% to 45%. The "No" (to independence) campaign prevailed in 28 of Scotland's 32 local council areas.
"There can be no disputes, no re-runs," said British prime minister David Cameron. "Now the debate has been settled for a generation."
Less than half of Scots agree. In a post-referendum survey by the pollster Lord Ashcroft, 43% of voters said they believed that the question of whether Scotland should be independent or remain a part of the UK will remain settled "for the next generation" (24%) or "forever" (19%). A somewhat larger group, 48%, said that the independence issue has been put to bed for the next ten years, at most.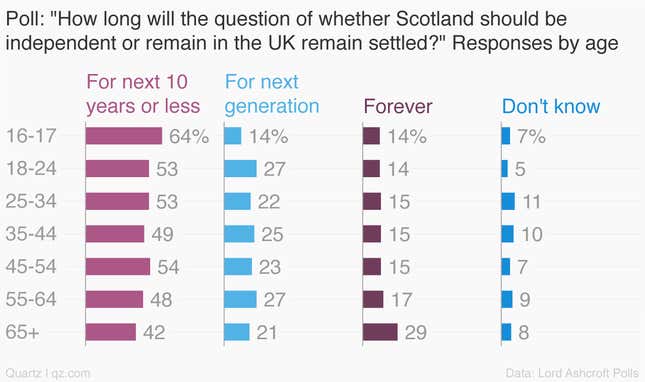 The referendum allowed 16- and 17-year-olds to vote for the first time, and they chose "Yes" by a huge margin, according to Lord Ashcroft's poll. But older voters were just as enthusiastically opposed to independence, which proved decisive:

On the question of whether Scotland will make another run at independence in the near future, the views of younger voters carry more weight—and two-thirds of 16- and 17-year-olds think that the independence issue will only remain settled for a decade or less. This could set Scotland up for a "neverendum" scenario—a term coined to describe Quebec's ongoing flirtation with secession from Canada despite two failed votes on independence, in 1980 and 1995.
Alex Salmond, head of the Scottish National Party and leader of the pro-independence campaign, announced his resignation today. He thanked the 1.6 million voters who backed independence, and expressed some skepticism about the British government's promise to give Scotland more powers. "For Scotland, the campaign continues and the dream shall never die," he said.