China now emits more greenhouse gases than the United States and the European Union combined—and, for the first time, emits more than the EU on a per capita basis. Those are sobering milestones ahead of the global climate summit in New York this week, where leaders will be pressuring China to rein in emissions. Over the past week, activists have held over 2,000 demonstrations calling on countries like China to address climate change.
But China has already helped global emissions to grow a little more slowly. Last year, its total emissions grew 2.3% to 36.1 billion tonnes (39 billion tons), lower than the average yearly growth for the past decade of 2.5%, according to the report by the Global Carbon Project. That slight drop is mostly because of China's economic slowdown, but it's the country's newly pledged "war on pollution" that could actually make a difference.
Growing public anger over China's air and water pollution, as well as a new environmental law and focus on renewable energy, raise the possibility that Chinese leaders may finally be serious about tackling the country's carbon emissions. "There is a popular mandate for cleaning up the environment. The point being that people aren't going to take it anymore," Charles Yonts, head of sustainable research at CLSA said at an investor conference last week.
The new environmental law unveiled in April actually seems to have some real teeth: Officials in areas where plants are found violating environmental laws can be criminally liable, some non-governmental agencies are now allowed to sue polluting companies, and caps on environmental fines have been removed. In July, China fined 10 coal-fired power plants a total of 158 million yuan (about $25 million) for not removing sulfur oxide from their emissions.
Overall, China plans to reduce its reliance to below 65% of energy production, from 66% in 2012. Twelve of China's 34 provinces have pledged some form of coal consumption reduction, ranging from coal reduction targets to negative growth targets, according to a report by Greenpeace in April. Ten Chinese provinces have already seen their absolute levels of coal consumption drop between 2011 and 2012 so that the growth rate of national coal consumption has at least started to fall: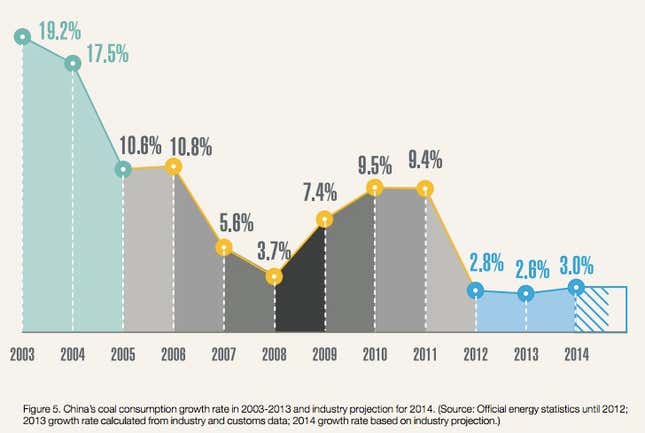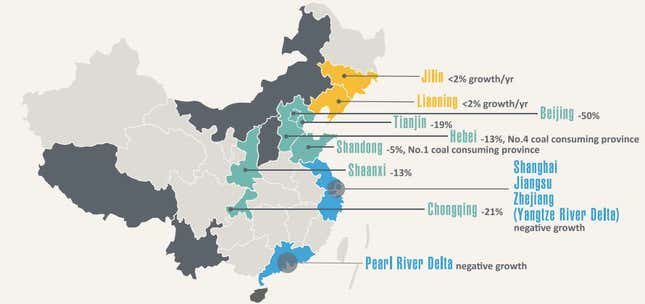 But it will still be a while before China's gargantuan contribution to climate change starts to ebb. According to the report, the country's carbon emissions are expected to grow 4.5% this year to 10.4 billion tonnes, compared to 5.2 billion in the US and 3.4 billion in the EU. (US and EU emissions are forecast to fall 0.9% and 1.1%, respectively.) Estimates for when Chinese coal consumption will begin to decline vary: some say as early as 2020 they should start falling by 0.4% a year (link in Chinese), while others believe coal use won't peak until 2030 or 2050 (paywall).