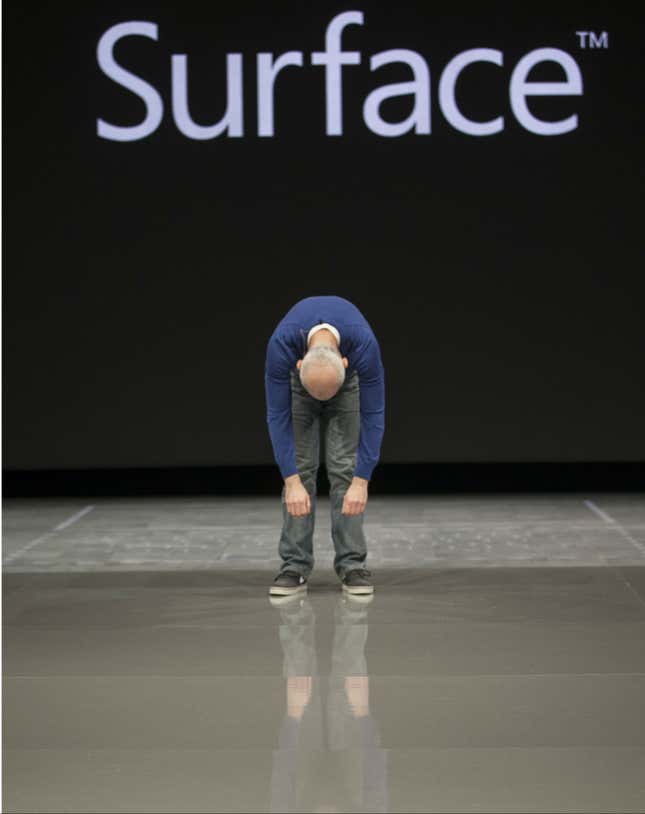 Steven Sinofsky, head of Microsoft's Windows division, is leaving, the company announced in a press release on Nov. 12. Sinofsky's sudden departure comes less than a month after the launch of Windows 8, of which he was the head architect. Sinofsky was widely expected to take Steve Ballmer's place as CEO of Microsoft. So the big questions are why was he pushed out and what does this mean for Microsoft now?
The company officially says the departure is mutual but Business Insider's Owen Thomas says Sinofsky was pushing for the post of CEO, according to an unnamed source at the company. He writes:
Sinofsky felt that he deserved to be Microsoft's next CEO, and wanted to be designated as Steve Ballmer's successor after Windows 8 shipped, according to this source's version of his ouster.

He threatened to quit if he didn't get the nod. Ballmer, who has previously indicated he plans to keep running Microsoft until he retires in 2017 or 2018, called his bluff.
TechCrunch's Alex Williams says Sinofsky was always the wrong man for the job of CEO:
My bet: Sinofsky does not fit with the company in the aftermath of the Windows 8 launch. He did okay with the development of Windows 8 and Microsoft Surface. But by no means did it cement his place as the successor to Ballmer as CEO.
AllThingsD's Ina Fried echoes the same sentiment, adding that Sinofsky was a divisive figure in the company:
Sources have said the move came amid growing tension between Sinofsky and other top executives. Sinofsky, though seen as highly talented, was viewed at the top levels as not the kind of team player that the company was looking for.
What happens now? Microsoft's Julie Larson-Green (bio here) has been promoted to lead all Windows software and hardware engineering, with chief financial and marketing officer Tami Reller taking over responsibility for the business of Windows, according to the press release. ZDNet's Mary Jo Foley describes Larson-Green, who has served as corporate vice president, as "no stranger to Windows," saying she has managed between 1,200 to 1,400 Windows team members. Foley writes:
Last time I got to interview her (March 2010), Larson-Green was in charge of Windows planning… Larson-Green applied to Microsoft right after she got her business management degree from Western Washington University, only to be told no. But she did land a job at desktop-publishing-software maker Aldus working on the product support call lines.
Microsoft "discovered" Larson-Green after a few Softies attended a talk she gave comparing Microsoft compilers to Borland compilers and asked her to run a Visual C++ focus group for the company. In 1993, she ended up landing a job on the Visual C++ team, where focused on the integrated development environment. She moved to the Internet Explorer team (where she worked on the user experience for IE 3.0 and 4.0) and then, in 1997, to the Office team to work on FrontPage, where she got her first group program manager job. She also did a stint on the SharePoint Team Services team, back when SharePoint was known as "Office.Net."
The PC software giant is increasingly under threat from a market dominated more and more by smart phones, tablets and other competitors. Whether this reshuffle will help save Microsoft from the death of the PC remains to be seen.