Facebook might understand your romantic prospects better than you do.
In a blog post, the company's team of data scientists announced that statistical evidence hints at budding relationships before the relationships start.
As couples become couples, Facebook data scientist Carlos Diuk writes, the two people enter a period of courtship, during which timeline posts increase. After the couple makes it official, their posts on each others' walls decrease—presumably because the happy two are spending more time together.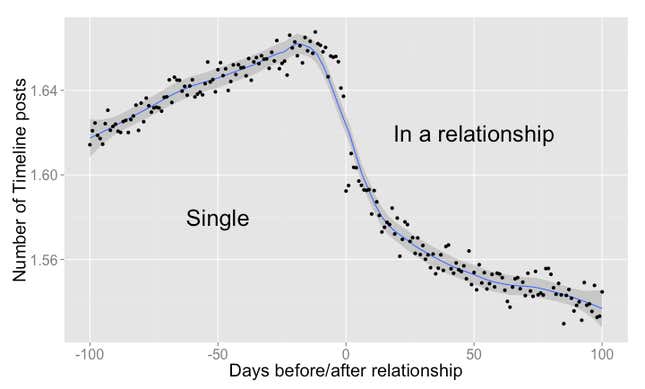 In the post on Facebook's data science blog, Diuk gives hard numbers:
During the 100 days before the relationship starts, we observe a slow but steady increase in the number of timeline posts shared between the future couple. When the relationship starts ("day 0"), posts begin to decrease. We observe a peak of 1.67 posts per day 12 days before the relationship begins, and a lowest point of 1.53 posts per day 85 days into the relationship. Presumably, couples decide to spend more time together, courtship is off, and online interactions give way to more interactions in the physical world.
You can see these data in the chart above. The number of wall posts climbs and climbs—until it tumbles when things become official.
The Facebook Data Science team has been releasing information all week about what the company's massive trove of data reveals about relationships, from how long they last to how love correlates to religion and age. This is my favorite post of theirs, though—it shows something you grasp, I think, if you've ever seen a Facebook couple come into being.
Diuk also writes that, even though the number of wall posts goes down once the relationship starts, the wall posts becomes happier.
"We observe a general increase [in sentiment] after the relationship's 'day 0,' with a dramatic increase in days 0 and 1!" he says. Here's a chart describing that change: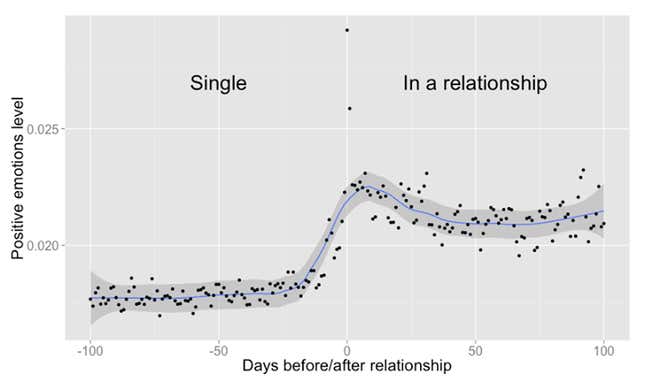 Sentiment analysis, as described above, is a far from perfect science. Robots are not very good at sarcasm. But it's often interesting.
The data science team took other measures to improve its data. To weed out Facebook faux-relationships, it only looked at couples who "declared an anniversary date" between April 2010 and October 2013, not just those who changed their relationship status. For the sentiment analysis, it focused only on English-speaking users.
This post originally appeared at The Atlantic on Feb. 15, 2014. More from our sister site: 
How to make a living in the death industry
Modern life without a pancreas
Chasing ebola