Indonesia, home to the world's largest population of Muslims, had some words of advice for the United States for defeating the extremist group Islamic State and other like-minded jihadists.
"Once ISIS [Islamic State in Iraq and Syria] can be defeated militarily, we will urgently need to come up with subsequent measures to ensure that future generations will not take up their diabolical cause again," outgoing Indonesian president Susilo Bambang Yudhoyono told US military cadets at West Point this week. He cited his own country's success in ending conflict in Indonesia's once-violent Aceh province and its reconciling with its one-time territory of Timor-Leste.
The fact that Indonesia doesn't have more problems with terrorism despite its large Muslim youth population and porous land and sea borders lends some weight to Yudhoyono's words. Moderate Muslim religious leaders in the country have condemned IS, and even some radical groups are distancing themselves from the group on the basis that it has killed many fellow Muslims.
But Indonesia's main approach to dealing with terrorism on its own soil—where groups like Jemaah Islamiyah and Darul Islam launched several deadly attacks between the late 1990s and the mid-2000s—has been anything but soft. In the aftermath of the 2002 attack in Bali that killed over 200 people, Indonesia launched a conventional "hard power" response through military intelligence-gathering, raids, and arrests. Convictions rose dramatically after 2002, and then again after twin bombings of Western hotels in Jakarta in 2009.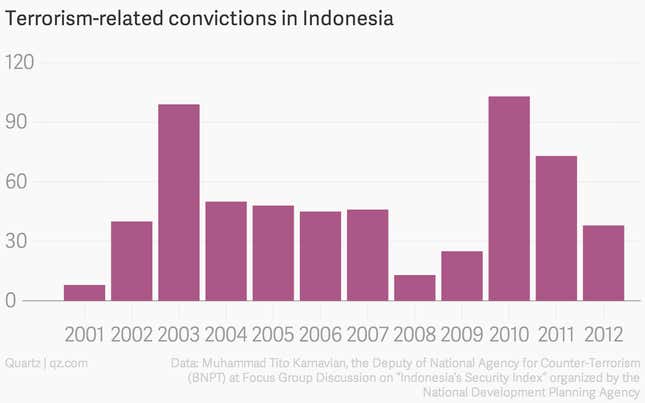 The country has also worked on "softer" approaches including rehabilitation of jihadists in prison and counter-propaganda. Incoming president Joko Widodo, who takes office later this month, has said he will stress a "religious and cultural" approach to curtailing IS's influence in Indonesia. But the combination of soft and hard power, as Yudhoyono has recommended to the US, has not been completely successful. As many as 60 Indonesians are believed to be fighting in the Middle East for IS, a figure that is large enough for observers to worry what might happen if those recruits return home.
Within Indonesia, religiously motivated attacks have been on the rise: there were at least 220 such attacks in 2013, compared to 91 in 2007, according to the Setara Institute, a non-profit group that monitors religious freedom. And even though radical Muslim groups in the country have been disorganized and inward-looking since 2009, they are not inactive. They've been focusing on their "near enemy": the Indonesian police.