Despite Elon Musk's warnings about Tesla's meteoric stock rise, the company can do little wrong in the eyes of investors. Though down from its recent all time high of $290, the company is still on a spectacular run, up over 60% this year after rising more than 300% last year: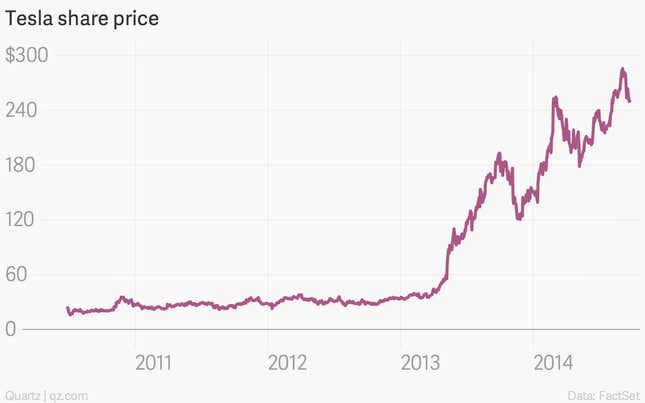 Goldman Sachs went on a tour of the company's Fremont, CA factory, and came away confident that Tesla will at least meet its 2014 production goals. But analysts came away concerned that Tesla has a huge list of things it needs to do just about perfectly, according to a note from analyst Patrick Archambault:
What keeps us more guarded is the aggressive timetable of the gigafactory as well as a potential escalation of capital needs given the planned capacity ramp, model and derivative expansion, service expansion as well as other undisclosed projects. So with 3Q likely to be a noisy quarter and shares seemingly baking in flawless execution at present, we remain sidelined for now.
Goldman stuck with a price target of $210.
Having more demand than you can meet is an enviable problem—but one the company needs to solve, given its big future plans. Here are some of the things investors expect Musk and his company to pull off without a hitch:
Solve the next two choke points in production by significantly upgrading the body shop (expected in the first half of 2015) then the paint shop, as it recovers from a recent two-week production shutdown.
Significantly reduce wait times (above five months in China, and above three months in the US, anecdotally)
Fund all of that spending—on upgrading the line, Model X development and launch, and ramping up on the gigafactory and Model 3 in 2016. The company says it could self-fund, but might raise more money, depending on growth and any more products.
Actually build the gigafactory–a challenge Tesla management "is not underestimating." It's will be done in phases, each of which will reduce costs. The company is "on pace (not ahead)" of the original time frame for starting production, after finally settling on Nevada as a site.
The gigafactory has to actually deliver on the promise of 30% drop in battery pack prices, something the company is a bit vague on. Management said that would come from "both the cell and the pack side, driven by redesign, increased scale, and increased localization of components phased in over time."
The big risks are slackening demand, and problems with the gigafactory timing or the Model X launch.
Of the five scenarios that go into Goldman's price model, the three "disruptive" upside scenarios model Elon Musk as changing industry as much as the advent of home appliances, Henry Ford, and Steve Jobs did.
The "Henry Ford" scenario currently estimates a long term potential share price of $469.