Dubai has come a long way. Once a nearly empty desert, it is now an urban metropolis with towering skyscrapers, islands shaped like palm trees, and a bustling expat population drawn to its luxurious beaches. And now the city is gearing up to host the 2020 World Expo, a global gathering expected to draw millions of visitors.
As a result of the Expo, and Dubai's propensity for outlandish real estate development, the construction sector is booming and home prices are soaring. That is raising the specter of a new real estate bubble, just a few years after a crash that saw house prices plunge by 50% and forced the debt-ridden emirate to seek a bailout from neighboring Abu Dhabi.
Many middle- and low-income expats are being forced to move to the city's outskirts, or even farther afield, thanks to surging prices. A one-bedroom apartment in Dubai now costs 7,500 to 17,000 dirhams ($2,040 to $3,540) per month to rent, compared with a range of $1,990 to $3,240 in New York. The median sale price for a one-bedroom place in Dubai is also about the same as New York, at around $517,360, or 1.9 million dirhams.
Real estate firm Knight Frank says that Dubai's residential property prices rose by 27.7% (pdf) in the year to March 2014, making it the fastest-growing housing market in the world by far: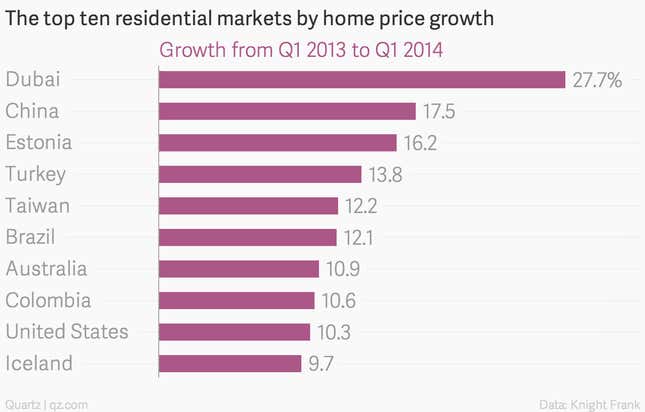 However, the market has cooled slightly from the 34.8% surge (pdf) between 2012 to 2013. Some areas saw rents increase by as much as 11% in the latest quarter, but overall the city saw an average 1% drop in property prices after 10 quarters of consecutive gains, according to the CBRE group.
The debate over whether Dubai is experiencing yet another housing boom-and-bust was at the forefront of Cityscape Global, the city's annual property showcase that took place last week. The general consensus at the event was that the market has shown signs of maturing since the last bubble, due in part to interventions such as a mortgage cap. But there is little doubt that the city-state has become an international real estate investor magnet, pushing prices toward bubble territory. 
The Arab Spring has brought in more buyers—people who fled the turmoil in their home countries in search of a new home or just a safer place to park their money. This has led to a sharp increase in regional buyers flooding the city with cash, which makes up approximately 70% of Dubai's real estate transactions and aren't affected by rules limiting bank loans.
The International Monetary Fund has called for stronger anti-bubble measures, citing Singapore and and Hong Kong as markets to follow. Masood Ahmed, director of the IMF's Middle East and Central Asia department, told Reuters that Dubai should look to Hong Kong's 15% fee on properties that are re-sold within six months and Singapore's 30% fee on properties flipped after less than year. Dubai recently imposed a property registration fee, but it is now just 4%, up from 2% previously.
The UAE's central bank has acknowledged the risks of another property bubble in Dubai, but it says that credit growth isn't as troubling as it was preceding the previous boom. Still, signs of a more cautious approach from local property developers are hard to see—Dubai recently announced that it plans to spend about $7 billion building the world's biggest mall, unseating the current record holder, which also happens to be in Dubai.