Tens of thousands of pro-democracy demonstrators are surging through the streets of Hong Kong to protest against Beijing's influence over how the semi-autonomous territory elects its top officials.
Police used several rounds of tear gas to scatter the mostly peaceful crowds that had blocked one of Hong Kong's main thoroughfares in the early evening (here is a video from inside the crowd). But protestors did not disperse entirely.
Earlier today, pro-democracy group Occupy Central announced the beginning of a civil disobedience campaign intended to disrupt Asia's largest financial center until its demands for free elections are met. The campaign, originally planned for October, is riding a wave of momentum following a sit-in over the weekend where televised clashes between police and students, some of whom were pepper sprayed, prompted city residents to rally in support of the students. Organizers say that around 60,000 demonstrators (paywall) were on the streets today, media reports put that number at 30,000, and police have not given an estimate.
In the afternoon, Hong Kong officials flatly refused Occupy Central's demands—the reversal of a decision from Beijing last month that would give China vetting power over Hong Kong's elections and the resumption of consultations on political reform in Hong Kong. At a press conference, Hong Kong's chief executive Leung Chun-ying dubbed the assembly "an illegal act." The Hong Kong government also released a statement stressing that its decision to implement universal suffrage in 2017 is "legally binding." The government has "all along been listening attentively to the members of public and are committed to maintaining a diversified society," it said.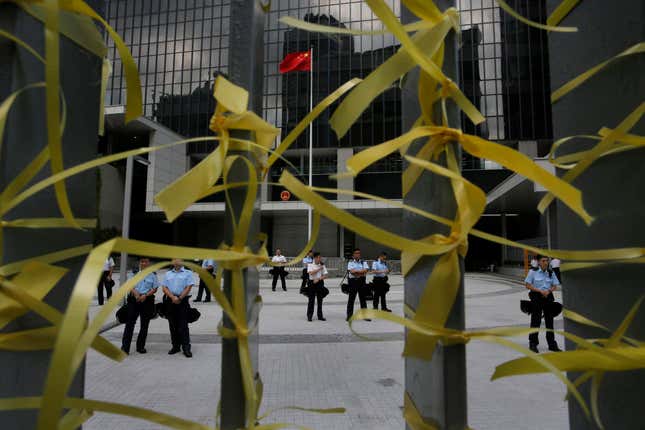 The proposed system in which candidates must be approved by a Beijing-sympathetic nominating committee "is an important step forward in the constitutional development of Hong Kong and is surely better than a stalemate," the statement said. "Raw emotion—for or against the proposed political reform—will get us nowhere," Leung wrote in an editorial for CNN.
Emotions are raw indeed. During the day police also used pepper spray on protesters, many of whom were wrapped in cling film, wearing goggles and gas masks, and using umbrellas to protect themselves. Protesters and residents feared a military crackdown on activists, similar to that of June 4, 1989 when Chinese soldiers fired on pro-democracy students and other activists. By the evening, rumors had circulated online that the People's Liberation Army would be dispatched, but Hong Kong officials issued a statement that it has "no intention of asking for help from the People's Liberation Army."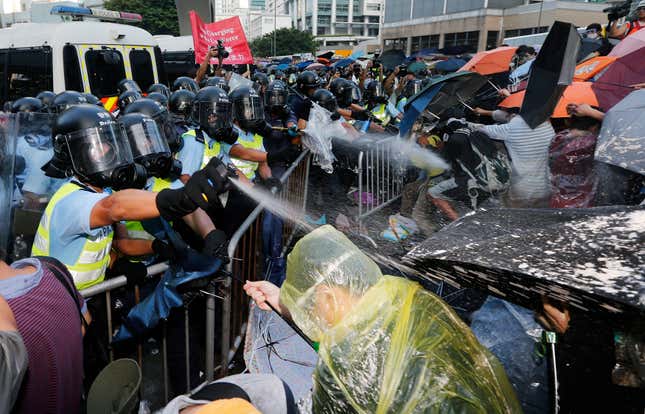 Police blocked the entrance to the main center of the protests, a plaza called Civic Square that the students have occupied since Friday, but protesters stopped traffic and demonstrated along nearby thoroughfares, encircling police. At around 2pm Hong Kong time, police told demonstrators still in Civic Square that they should "leave now, for the sake of their personal safety."
Instead, crowds grew until the center of Hong Kong was a sea of protestors and bystanders, and traffic was brought to a standstill. "I'm so scared, but I want to support the students," said Florence Lau, 30, a Hong Kong resident who said she works in markets, who was standing on the outer fringes of the protest. "I want to stand here and see the truth." The students are "protesting for democracy," she said, and "I want that too."
Even before the tear-gassing, activists were hopeful more local residents would join the cause.
Occupy has been criticized by Hong Kong's business community as well as many residents who object to the disruptions to their daily routines. By connecting with the student movement, which has aroused more public sympathy, activists believe the pro-democracy movement will find more supporters. "Students have opened the door of Occupy Central," Jimmy Lai, a local media tycoon and supporter of Occupy, told the Wall Street Journal (paywall). Already, demonstrators range from students to elderly activists and democratic lawmakers. As of this afternoon, police said that 78 people had been arrested since Friday, ranging between the ages of 16 and 58.
The next few hours are expected to be fraught. Despite several rounds of tear gas, thousands of protestors remain on the streets, and tensions are increasing.
Meanwhile, Hong Kong police are reportedly cutting cell phone reception in protest areas and have been pictured carrying shotguns through the crowds. Apple Daily has a live feed of the protests if you want to watch them in real time.