Apple seems to have successfully moved past its latest faux fiasco, "Bendgate"—in which online commenters suggested the new iPhone was susceptible to bending. The truth is that it is not easily bent, though the YouTube video that set things off—where a guy manages to bend an iPhone 6 Plus under extreme strain—has now passed 45 million views.
Either way, Apple will be fine, just as it was after "Antennagate" in 2010 or any of its other recent controversies. That's in large part because of a priority its founder Steve Jobs placed on getting people to love Apple, according to Ken Segall, the executive who led Apple's long-time ad agency. He writes today:
[Jobs] wanted every part of the customer experience to strengthen that love — from the advertising and in-store experience to unboxing, enjoying the product and getting support when needed.

By doing so, he would ensure that customers would (a) buy more stuff, (b) evangelize to others and (c) stick with Apple when unforeseen problems arise. He understood that such things were inevitable, even for a company like Apple.

History proves that Steve was 100% correct.
There's no doubt that's part of it—that customers are willing to forgive Apple for small problems in the context of a broader affinity for the company.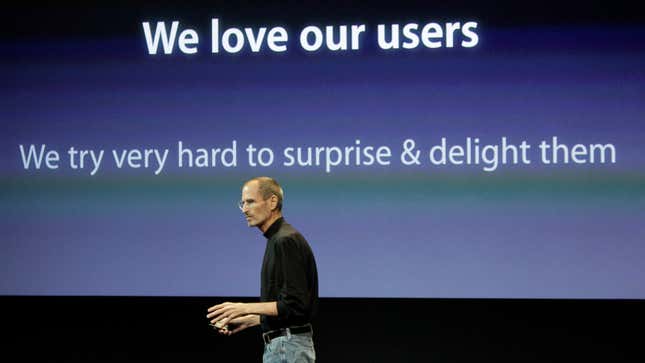 But Apple has also done an excellent job in damage control over the years. When the iPhone 4's antenna design came under attack, Apple hosted reporters at its campus, gave them a tour of its antenna-testing facilities, and offered free iPhone cases to any customer who wanted one. When its cloud services or map products were duds, Apple made executive changes. This past week, The Verge was treated to a tour of the iPhone 6 torture-testing chamber.
Apple has also been fortunate to avoid any real, major disasters—massive recalls, widespread battery explosions, mega-dud products, or corporate scandals. Perhaps its closest in recent history was the situation at Foxconn, Apple's giant manufacturing partner in China, where employees were attempting suicide over working conditions. But even then, Apple escaped relatively unscathed, thanks to smart public relations, including additional transparency around supplier responsibility.